The Monday Movie Meme is I love The 80's; here are some of my quick thoughts on my favorite 80's films…
Desperately Seeking Susan — I was dressing like slutty Madonna; but like Rosanna Arquette's Roberta Glass, I wanted more of Madonna's life (as Susan, anyway). I recently watched the movie again, and felt the same stirrings now. Still a cheap, fun thrill!
The Lost Boys — Still an excellent film. A great blend of adventure comedy with enough chills & thrills to make you grip your boyfriend's arm. Of course, Jami Gertz & Jason Patric gave you chills & thrills of a different sort (and maybe that lead to different sort of grips between you & your boyfriend… I'm not judging you if it did.)
I wore out my cassette version of the soundtrack; had to get it on CD.
Pretty In Pink — Molly totally chose the wrong guy. How can anyone turn down The Duckman?! His performance of Otis Redding's Try A Little Tenderness, & the rich kid was forgotten. Yes, I know that song was lip-synced; but I melted. (Jon Cryer, as Duckie, did sing Love in the film though.)
[youtube]http://www.youtube.com/watch?v=z727wXHEJMg[/youtube]
James Spader was in the film too — as the rich jerk you loved to hate. Too pretty for me to like him then, it was too easy to lump Spader into the group of vain guys who thought they were better than me.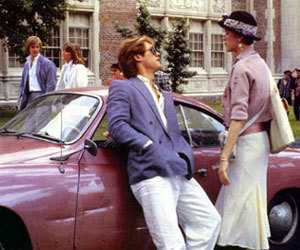 But…
Along came Secretary & then Boston Legal, and I completely, utterly fell in love with Spader. He's on my list of "people I'm allowed to 'do' if I ever have the opportunity."
I may have to write more about my love affair with James Spader later.
The Breakfast Club — This time Molly Ringwald got the guy right; but somehow, I knew that once she drove off with her (movie) dad, she'd forget all about Judd Nelson…
I wouldn't.
Judd was never hotter. (I know because I kept waiting for him to appear so hot again. :sigh: I still wait.)
But to me, the ultimate 80's flick is Valley Girl. If I couldn't be brave enough to live life as Madonna's Susan, well, I'd get me Nicolas Cage, the dangerous yet misunderstood "bad boy" who'd love me, even if I would have uttered "gag me with a spoon" — which, trust me, we only said to mock those we felt were lame enough to say that… I don't think anyone ever said that outside of a movie or a cliché.
Actually most of the movie is cliché. But it's the height of cliché! It's full of romantic cheese done with an incomparable stylistic edge set to Modern English's I Melt With You, yet (and loads of other greats on a kick-ass soundtrack).
[youtube]http://www.youtube.com/watch?v=Hb-a2jrbQAQ[/youtube]