When I snatched-up this antique postcard, I was so seduced by its charms that I thought I had something few had ever seen since the 1900's; but, as it turns out, you can find scans & images of this old postcard a few places online.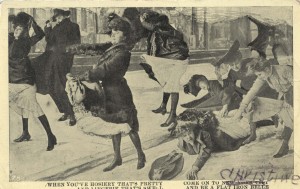 But what makes my posting of it unique and interesting is that, unlike my compatriots who've shared the image, I am so smitten with ephemera that I must unlock its secrets & share those too…
The text reads:
When you've hosiery that's pretty
And lingerie that's swell
Come on to New York City Christine
And be a Flat Iron Belle
Now the crossing-out of New York City & replacing it with Christine (a small city in North Dakota) has been done by hand — but it is not inviting someone to a woman named Christine. *wink* It was done by the hand of what looks like an A.N. Gunderson who was cheeky enough to tailor the postcard into an August 22, 1909, invitation for (presumably) his friend, Alfrid Olson, to come visit him in Christine.
That historical personalization is cute; but I just kept wondering what the heck a "Flat Iron Belle" was.
Based on the rhyming text description and the "semi-photo" visual of ladies' underthings, I just knew this card was special… But other than the afore mentioned images, searches for "Flat Iron Belle" didn't turn anything up. So I turned to the real world and did some research.
I turned to my husband and asked, "Do you know what a 'flat iron belle' is or was?"
He, the all-knowing, all-seeing Wizard of Odd, informed me that there was a Flatiron building. (It is so useful, when stuck, to utter a question and have your intelligent walking encyclopedia of a mate tell you not just 'stuff,' but the right stuff so you can continue your obsessive researching.)
From there, a hop skip & jump (over Wikipedia, which I mistrust intensely) to Columbia University's The Architecture and Development of New York City with Andrew S. Dolkart & his entry on The Flatiron Building, "The first building to become a romantic symbol of New York." Dolkart says:
[I]t was a symbol because of its triangular shape. Thus the name Flatiron, because it looked like the old irons that people used to iron clothing. It was originally called the Fuller Building because it was built by the Fuller Construction Company for its headquarters, but people almost immediately called it the Flatiron Building. The Fuller company understood the value of this name and popularity of the building, so they began calling it the Flatiron Building as well, and that became the name by which everybody knew this building.
OK, so now you understand the name — even if on the postcard it says "Flat Iron" rather than "Flatiron." But what of the windswept skirts?
It was not only a building that appealed to high-art interests, such as people who were interested in Steichen's photography or Hassam's paintings, but this building also entered popular culture. It is at a triangular site where Broadway and Fifth Avenue—the two most important streets of New York—meet at Madison Square, and because of the juxtaposition of the streets and the park across the street, there was a wind-tunnel effect here. In the early twentieth century, men would hang out on the corner here on Twenty-third Street and watch the wind blowing women's dresses up so that they could catch a little bit of ankle. This entered into popular culture and there are hundreds of postcards and illustrations of women with their dresses blowing up in front of the Flatiron Building. And it supposedly is where the slang expression "23 skidoo" comes from because the police would come and give the voyeurs the 23 skidoo to tell them to get out of the area.
So there you have it; "Flat Iron Belles" were the beauties looked at (or those who became beautiful by virtue of winds making a disarray of their virtuous skirts). And there, supposedly, is the reason for the phrase "twenty-three skidoo" too.
The questionable innocence of peeping Toms aside, I am at least comforted by the fact that the sole male in the scene is not one of those (hopefully) assisting the fallen wind-swept women. Those hands look more like they are stroking the fine underthings than reaching to help the fallen; so even if the problem is an unrefined artistic skill, at least I don't have the nightmare of male (physical) assault.
Collectors, the information you seek to find this coveted card & add it to your collection is scant; you're best bet is to search online for the lingerie verse, because the card has no markings save for number 78 on the front lower left hand corner and [K] Semi-photo on the back (like this one).