When I spotted this authentic retro Q*Bert "a board game based on the exciting arcade game" (Parker Brothers #0142, © 1983, Gottlieb & Co.) at a rummage sale, I was excited. The box felt so light, I had no idea if there even was a game & pieces inside — but I didn't dare to even open the box there; I just wanted to buy it and get out of there before the $5 price went up.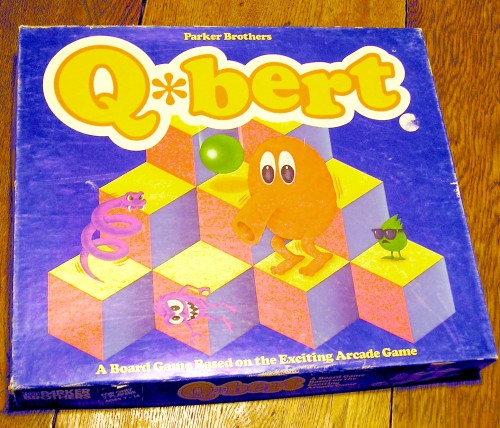 No, I'd never played Parker Brothers Q*bert; I was a freshman in college when this hit the market in 1983, and boardgames, especially for ages 7-14, were so not cool. In fact, boardgames weren't especially cool then. Arcade video games were where it was at and any college bar worth visiting had them.
[youtube]http://www.youtube.com/watch?v=fAU-kkpWK8M[/youtube]
My college roommate, Sue, and one of our dorm-mates, Nora, were especially obsessed with Q*bert. I myself never mastered it; artist Jeff Lee's pyramid of cubes inspired by M. C. Escher made me dizzy and I too often jumped myself (or Q*bert) off the pyramid. But when I spotted the retro board game box, I was so flooded with memories…
I told myself that if I did indeed now possess a complete game, I would probably be better at it than the old video game. And if I didn't, it was a cool retro nostalgic piece. How could I lose?
Surprise, surprise! When I opened the box, I found every last piece was there (save for a standard 6-sided die, of which my drawers are plentiful). So I made hubby come over and play.
The game is a two-player game, with each player playing two rounds: one as Q*bert and one as the "nasty" characters, Coily, Red Ball, Ugg, Wrong Way, Green Ball, and Slick. (Don't worry, you'll only play one at a time, determined by the roll of the dice.)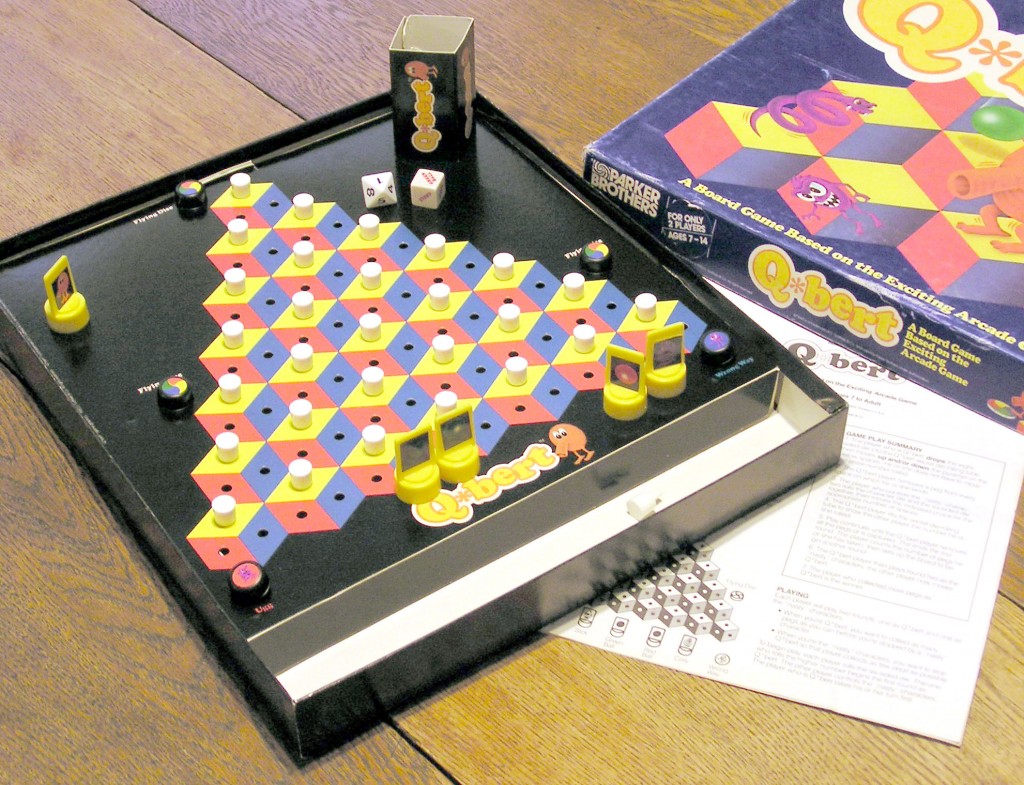 The player being Q*bert goes first. He or she drops the 8-sided die into the "Q*bert secret die-rolling tube" and then moves, like video Q*bert, up &/or down the pyramid on the yellow spaces, taking white pegs from every space Q*bert travels. The Q*bert player does not have to move the entire number rolled (more on that in a minute).
Then player two, as the "nasty" characters, goes. He or she rolls the character die and the 6-sided die together, revealing just which "nasty" character will move how many spaces — the chart on the back of the gam's instruction booklet tells you A) where each character starts, B) the direction of their movement, and C) how or if Q*bert can be captured by said "nasty" character.
If a "nasty" character captures Q*bert, Q*bert may be saved if the player moving/being Q*bert did not move the total number on the dropped 8-sided die — those unused moves on the pyramid may be "escape moves." If Q*bert cannot be saved by an escape move (just moving away or by using a Flying Disc), then that round is over and the total number of pegs collected are that player's score for the game.
The players reset the board & switch roles (and drops and rolls of the dice) and play again. Whoever collects the most pegs as Q*bert wins.
Considering the game is for ages 7 through 14, the instructions are rather complicated… (This makes me wonder what lays beneath the round blue "for Only 2 Players, Ages 7-14" stickers — do they cover up other recommended ages?)
Yeah, if you remember Q*bert at all, each character's movement sounds familiar… But it was a hell of a lot easier when the 1's and 0's of the program did it. Even if the pyramid on the screen made you dizzy & end your turn/game early while your friends played for hours.
Overall, the game is fun for the sake of nostalgia; but not so much fun to play. And, as a board game lover (even of kiddie games), it pains me to say it.