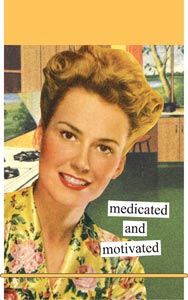 Taking a look at retro & vintage images of female domesticity (or the sales of such) is a fascinating part of my collecting.
For every bit of useful information (research help, household tips & recipes), there is the moment of shocking disgust that even though you already knew of its existence (or at least expected to find something like that there) results in the auditory combination of frontal forehead slap and an "arg!"
This sport has become quite popular, even among the non-collecting set, who have exploited the kitsch of yesteryear & reclaimed it in the names of feminism and/or capitalism, spawning a bajillion blogs and inspiring Anne Taintor, among others.
And we buy it by the barrel. From "Guess Where I'm Tattooed" emery boards to sticky notes; from blank journals & greeting cards to ID cases & compacts.
Derogatory statements & words (like the B-word, bitch) were often reclaimed by women, much like the N-word; only we women could use those words, label one another & our products with them.
Obviously, sometimes, it was pure capitalism. Perhaps even with a pinch of misogyny — or at least irony — as it was men like Ed Polish & Darren Wotz who really capitalized on women's mockery of their own history by selling them bold & defiant sayings juxtaposed with domesticated retro images of women.
At some point whatever genuine interest there may have been in giving females a hearty last laugh at female history was perverted into a glut of raunchy retro styled products which twisted & sometimes down-right confused sexism with sexy. At first, it felt only natural to mock & rebel against the ridiculous notion of woman as virgin & then (married) mother — with never a thought to her own pleasure or desires.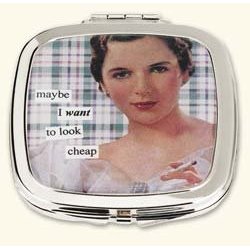 So, much like the B-word, we took over the S-word, co-opting it for our own use, putting "slut" on a slew of merchandise.
Bur then we went too far, I think, including putting "slut" on clothing for kids. *gasp* (No, I won't link to or promote any of that.)
Most of the retro rebelling merchandise has it's only value in the humor, being poor product inside slick packaging, and they often don't stick around long.
Products such as Bitch & Slut Body Detergents are no longer are around (hello, collectible!) — but in the specific case of the body detergents, the problem was with the icky gritty soap, not the packaging. (And it should be noted, in the interests of accuracy and equality, that Mabel's LaundrOmat also served silly, dirty & derogatory soaps about men too.) However, it seems the company continues to make stereotypical sundries which may chafe & chap those without the ability to laugh at things such as Extra High Maintenance & Extra Dizzy Blond Lip Balm.
Today, it's difficult to enter a hip gift shop, bookstore, or boutique and not be bombarded with such humorous merch. A lot of it is funny. But some of it seems to actually be reinforcing the old myths & stereotypes. And many of the profits in the process of using humor to free women from the humiliating shackles of the past are lining the pockets of men, not women… Is that really liberating? Or funny?
I wonder about that stuff when I buy it for my collection. Because even while I may be "documenting history" (and modern items are both "today" and "history"), I don't want to be buying the old party line when I buy my trinkets, you know?
Anyway, when you look at it all on the shelves, at a store or in a collector's home, all this reclamation of womanhood says something… I'm just not sure what yet.