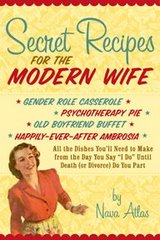 In contrast to the many products inspired by or incorporating vintage & retro images of female domesticity that only really offer humor, Secret Recipes for the Modern Wife: All the Dishes You'll Need to Make from the Day You Say "I Do" Until Death (or Divorce) Do You Part, by Nava Atlas, offers some wisdom with the chuckles.
It's easy to take one look at this cookbook, flip through the pages and realize that most of the ingredients, like "1 economy-size can of everything you and your husband ever had in common, drained," are not of the edible variety and so dismiss it as just another product cashing in on the retro style craze — but don't! While it's true, as the publisher claims, that Atlas "grills societal norms with gleeful relish," it's also true that this book offers recipes. But not just any recipes, but the secret kind…
Success recipes for love, marriage, parenting, divorce, reconciliation — survival.
Instead of offering only the too-true advice that heaping servings of humor are needed to survive marriage and children, there are excellent (sarcastic & snarky) reminders that good health includes a sound mind, free of self-delusion, self-denial, self-betrayal & self-sacrifice.
Atlas states in the book's acknowledgments & credits that Secret Recipes For The Modern Wife began as a personal project, "a small, limited edition artist's book" using dark humor as a cathartic release for friends who were divorcing or otherwise suffering from marital malaise; but Trish Todd, Atlas' editor, saw beyond the divorce theme and helped the author & artist shape the book into something more well-balanced. It even ends on a hopeful note with "Happily-Ever-After Ambrosia."
Secret Recipes For The Modern Wife, with its recipes like "Beans 'n' Weenies of Sexual Tension" (below – click to read larger version), "Soufflé of Fallen Expectations," and "Old Boyfriend Buffet" may not be suitable fare for the entire family — but keeping a copy of this book tucked away for a private & spontaneous flip-through will be good for the whole family. After all, what wife &/or mother doesn't need a little stress relief? And hidden reading episodes are certainly preferable to a furtive nips of liquor in a closet.