I was reminded the other day (details to follow) of Christopher Titus & his stand-up bit
where he hates on Capri pants, saying that they are butt-widening, leg-stumpifying, pasty-white-cankle-showcasing monstrosities that are neither pants nor shorts. Who can argue? Few can face the bottom (or leg) line of Capri pants.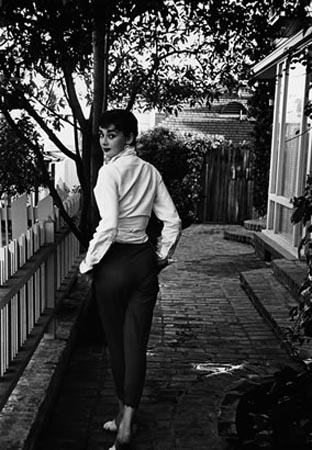 But the point of Capri pants is not to make you hate yourself for not being able to mold yourself into the (physical) ideal of Hepburn (Audrey, not Kate; Kate eschewed skirts and wore tailored "men's" pants and was far more shocking than fashion-trend-setting Audrey) — Capri pants were supposed to be liberating.
Frankly, the discernible characteristics between Capri pants and peddle pushers (and, sometimes, leggings & stirrup pants — hello, 1980's!) are few and fuzzy. I'm not just talking about fabric pilling on the knit versions either. Strictly speaking, Carpi pants are supposed to be a tad shorter and looser than peddle pushers, but for the sake of this post I won't split hairs, except to give credit where credit is due — and the credit for peddle pushers goes to designer Lynn Eccleston in the 1940's. Eccleston experimented with shortening the legs of women's slacks and the sporty look caught on with active women who, like those who abandoned their corsets in at the end of the 1800's, wanted more ease in riding bicycles — thus the term "pedal pushers."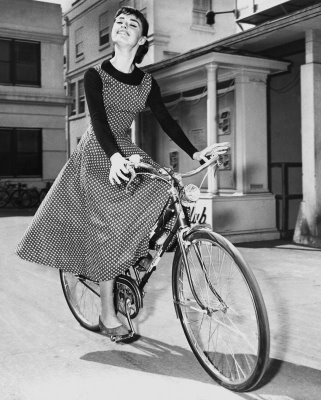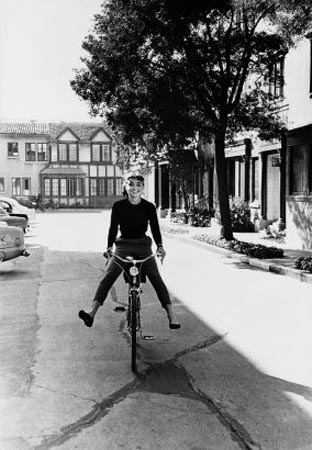 Some credit Mary Tyler Moore for making the pedal pusher and other pants fashionable; others prefer to cite Audrey Hepburn. Technically speaking, Audrey sported pants in the 50's while Mary's Laura Petrie didn't hit small screens until the 60's.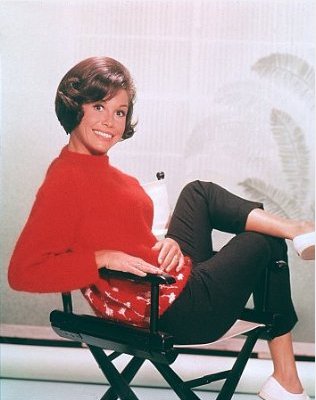 But for our purposes of discussion today, it's tomato tomato — not tomato tomatoe — because both babes had figures to carry off the slim look.
And this, my friends, is the reason for the, "Yer momma wears Capri pants" slur.
Most women wearing pedal pushers have stopped pushing pedals. If they continued the liberating exercise of exercising, they wouldn't end up being the (wide) butts of Titus' jokes. Even the middle-age spread would limit itself to some thickening of the torso, rather than the pear and apple shaped figures most now have. (And even liberal use of sunscreen wouldn't keep us pasty-cankle bound.)
But, by & large, we've stopped pushing pedals; now we're just large. And so maybe we should stop wearing peddle pushers and Capri pants. No, not even with the "over-sized" tees, sweaters, and tunics we think hide all the problem areas. (Notice where Mary Tyler Moore's sweater sits; she doesn't need to hide hips, belly or behind.)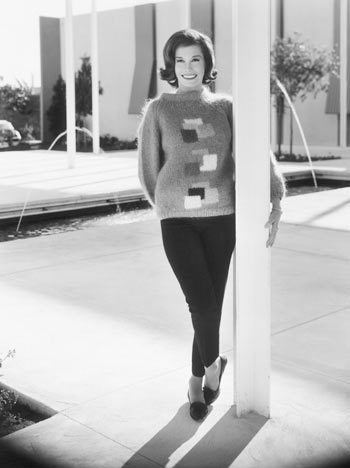 I don't wear Capri pants or pedal pushers, but I know why other women do. Like Titus said, they are neither shorts nor pants, so they seem to provide the middle of the road not-too-formal, not-too-casual fashion needs for summer. And if we had more choices, like we did in the 70's and 80's for light-weight colored denim and cotton pants, maybe we'd feel less pressed to push ourselves into unflattering butt-widening, cankle-baring pants. (Back then you could find warm-weather friendly pants in shades of watermelon, sunny yellow, every shade of Caribbean azuree inspired blue… Far more then today's white & navy.)
OK, and some women wear these shorter length pants to show off their shoes. (And yes, Titus is right, this does include cork wedges.)
But mostly Capri pants are worn for physical comfort; not to be posing like the pedal pushers we aren't.
What started me thinking about all this was spotting a young man at an outdoor event last week. In a display of teenage fashion defiance, he was wearing all black — from head-to-toe in the sweltering high temperatures. Following the solid, if somewhat wash-faded, black line of t-shirt to canvas belt to jeans, I was jerked to a stop at the wide folded denim cuffs at his calf where a 4-6 inch wide white swatch of pasty mid-west skin glowed glared behind its decorative tufts of hair. From there, more black: black socks over the edge of comically huge black combat boots. Seriously, clown shoes are smaller.
Between the heat, the black clothing, & the weight of those shoes, he half-crawled to his seat where he tried to make it look like he was nonchalantly sprawling himself instead of, as he was, stumbling towards & falling to a seated rescue.
The only thing that kept me from bringing him some water to revive him was the knowing look his white Capri pants wearing, non-heatstroke affected mother and I shared. (And then I had to turn away and make a non-related animated conversation with hubby so that I could release my held laughter.)
My point is, if you missed it and insist that I have one, is this: He was a poser, hiding behind his costume.
If over-weight women are to be mocked for exposing their least flattering sides (physical attributes and the attitudes which created them), then I feel the need to point out the ridiculousness of faux poser cool melting in the sun.
So the next time you want to mock someone's momma for wearing Capri pants, be sure you & yours are not equally guilty of some fashion posing; I assure you, your sacrifice of comfort (and health) is no more flattering and it is equally noticeable.
And while we're talking about such things, let me say, "Get on your bike and ride it!" Whatever you're wearing, you'll look & feel better for it.