Americans are obsessed with breasts. Not just looking at them, judging them, but controlling and legislating them. Like the old "children should be seen and not heard," there are rules about just how, when, and why breasts are exposed. In public and in private. Even if those breasts are doing the most natural thing in the world: feeding babies. According to the "seen but not heard" societal law, the sucking sounds of an infant clearly ought to be held against the child — except that mothers are blamed for everything, including the soft but necessary noises of a nursing infant.
But we all know it's not the noises thing that bothers people so. It's the sight of a nipple. Even the fear of seeing a nipple outrages folks. Sadly, we are not winning this fight for the right to bare our breasts. But Robyn and Michelle Lytle, a Chicago-based couple, are on a mission to fight it. In a not-so-subtle way. They are the women behind The TaTa Top Shop, which sells TaTa Tops: bikini tops in various flesh shades — complete with nipples.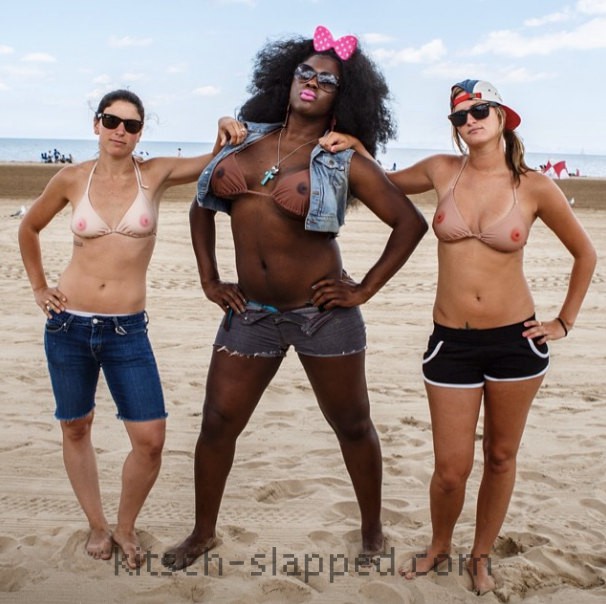 Now, before you think this is some sort of gag gift thing, like those t-shirts ; it's not. "The TaTa Top was created in response to current censorship issues regarding women's bodies."
Always one to push boundaries and challenge authority, Michelle decided that The TaTa Top was the perfect way to stir things up and get people questioning the current law.

The TaTa Top is far more than nipples on a bikini top. As a brand we work to promote questioning the social norm and digging deeper when it comes to society's expectations.

…From the very beginning, we knew we wanted to use a sense of humor to shed light on some serious issues while simultaneously raising funds for two areas we are extremely passionate about: breast cancer awareness and women's rights. It's great to create a product that makes people laugh, but it's even better to be able to do something very serious with that success. For each TaTa Top sold, $5 goes directly towards supporting one of our partnered organizations, and this is what it's all about!
But the couple isn't above selling a few of these bikini tops for bachelorette parties. I doubt they would mind — or could control — selling them for bachelor parties either. (Because nothing is funnier than a man dressed like a woman, right?) At least the Lytle's and their charities would get some money. Proving that nipples — at least faux nipples — are good for something.
For more on the TaTa Top, visit their website; follow on Twitter.