I'm not about to go all mathy on yer arse, but in a world of streaming video, on-demand downloadable rentals, home delivery rentals (even without fees!) TCM, part of basic cable, which is bundled with my cable internet connection, is one of the greatest cheap thrills I can get.
Films shown uninterrupted and commercial free, save for a few sponsored reminders to things you probably want anyway (like the TCM Now Playing Guide) — it's the way TV ought to be. (And here is where I will insert my continual plea that TV return to its original format of corporate sponsored programs, with mentions at the top & bottom of the hour, as opposed to junky ads & product placements — which, in the case of the former, only distract & cause me to leave the room and, in the latter, go unnoticed by me anyway.)
Anyway, TCM is an incredible value.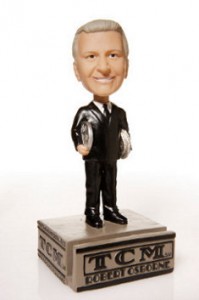 Along with Robert Osborne and, now, Ben Mankiewicz's informative tidbits, you get to watch films you adore and see films you've never seen — including those that aren't available anywhere else & those that you've avoided before because of crappy trailers & promotions that made you think they were crap. Now, thanks to TCM, you can watch them and either fall in love or be glad you didn't waste money on a rental, download, or whathaveyou.
All of this brings me to the case in point: Last night's viewing of Bathing Beauty.
As a kid, I'd never seen the Esther Williams films — but I saw the various parodies & heard the not-so-flattering commentary about the kitsch of synchronized swimming and pageantry of the old dated swimming movies. Ditto my kids, who aren't interested in humoring me enough to let me rent one for movie night. But thanks to TCM, I got to watch Bathing Beauty last night.
The film is as sweet & simple as you'd expect a film from the 1940's to be; romance and humor, with Red Skelton a complete joy as the young man willing to do anything — even be the only (tortured for demerits, forced to crossdress) male at an all girl's school — to get his beloved back.
Unexpected were the lengthy scenes of musical performances from Harry James and his orchestra, Xavier Cugat, & others in traditional, glamorous nightclub settings; vicarious home front war living for those who couldn't afford evenings out.
Now I loves me some Cugat, but the pee-my-pants-with-delight moment was a scene early on in the film, when the campus girls force (by flattery & girlie whining) one of the music instructors to play some forbidden music…
Here Ethel Smith plays the organ — note the lavish visual of her dainty feet, in pretty pumps, skimming along the peddles (Foot fetishists, beware! I'm not responsible for what this does to you!)
[youtube]http://www.youtube.com/watch?v=4JkhpxzLIFQ[/youtube]
After that warm up, Smith consents to show the kiddies — ooops! I mean the girls — more of her chops on the electric organ, playing her theme song Tico Tico.
[youtube]http://www.youtube.com/watch?v=TA9qlWyk-7Q[/youtube]
Ahh, a fantastic orgasmic ode to the organ — and fashion (love her ensemble!). But if that's not incentive enough to watch Bathing Beauty &/or TCM, how about Skelton as a ballerina?
[youtube]http://www.youtube.com/watch?v=R39DLTMlGSE[/youtube]
Seriously, all of this is so fantastic, I was nearly exhausted by the time we go to the results of all the cumulative efforts — the big swimming pageant. Which was as over-the-top as the parody legends proclaimed. Oh well, I have to leave you with something to look forward to.