First my disclaimer: I sadly do not own this old advertisement & instructions for the "Dainty Maid Outfit" (douche bag, antiseptic powder, and syringe); I found it while searching at the Library of Congress for photos of Margaret Sanger for the eugenics post.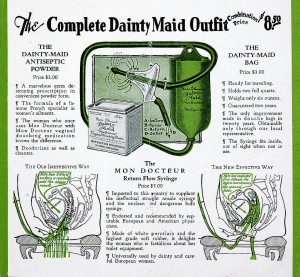 The reason I didn't include it then & want to discuss it now is two-fold.
One, there's some confusion over Sanger's connection to the item.
While the LoC notes that this paper, published between 1900 and 1930, was part of Sanger's collection, saying, "Like many of her contemporaries, she retained all kinds of printed matter accumulated during her career, including pamphlets like this one relating to women's gynecological health and hygiene," it's not entirely clear that this is the end of the antique ephemera's story.
In 2006, the Margaret Sanger Papers Project (MSPP) reported this (links added by moi):
In his recent book, Men of Tomorrow: Geeks, Gangsters, and the Birth of the Comic Book (New York, 2004), author Gerard Jones highlights the role played by the poet and editor Harold Hersey in the pulp publishing industry. Hersey, one of Sanger's lovers in the late 1910s, later wrote an unpublished biography of Sanger. He worked closely with Sanger in the early days of the Birth Control Review. "We didn't only sell magazines," Jones quotes Hersey as saying, "but also razor blades and other items." "The 'other items'," Jones explains, "were contraceptives. Sanger was not only a proponent of birth control but a mail-order dealer, with her own line of condoms, diaphragms, and 'Dainty Maid' douche kits." That is new information to us. Sanger was always extremely careful never to associate with the commercial trade of contraceptives. Her opponents often accused her of profiting from her cause, but there has never been a shred of evidence she received money for selling birth control or taking part in a mail order business – under or above ground. It is possible that one distributor of the Review, Eastern News, used its sales network to send illegal publications, condoms and liquor around the country, but most likely Sanger had no knowledge of it. For his sources, Jones cites Hersey's autobiography, Pulpwood Editor, which does not mention the mail order venture, and unspecified collected material by Michael Feldman, a researcher on the comic book business. Thanks to Professor Ed Shannon for bringing this one to our attention.
However, there was a 2007 release The New Pulpwood Editor also. And, despite claims to Hersey's "unpublished biography" of Sanger, others claim to have a copy. All of which not only further confuses things in terms of what source was used, but leaves the accuracy of Hersey too far down the pecking list at this point to even verify it.
But regardless of the characters involved & their individual characters regarding telling tales (& proper documentation of sources), how can the MSPP claim Sanger's ignorance to The Dainty Maid Outfit when the LoC has it — and in their Margaret Sanger collection (Papers of Margaret Sanger, container 252) yet?
The second reason I brought this vintage female hygiene ad up separately should be apparent: researching is not for the timid, not the easily exhausted.
If this was a product Sanger offered via mail order, then perhaps The Dainty Maid was more than a cleansing douche… Contraceptive products, illegal at the time, were sometimes sold with the word "French" used as a secret code to communicate the "illicit" purposes of the product; either to wash away sperm post-coitus or perhaps even the "antiseptic powder" was even a spermicide.