Just the name alone, Sin in Linen (I've been doing that for years!) draws me in. Clever name, Sandy, a very clever name… but what about the sheets themselves?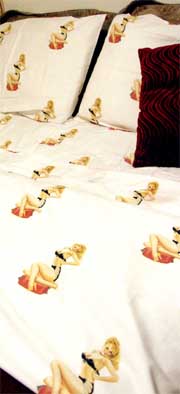 Joie de Viv is the name of a luscious & playful bedding set made by Sin In Linen. Blonde, busty and beguiling, who wouldn't want her waiting in their bed?
But like many an attractive woman, you wonder if she is able to live up to your fantasies… Sure, she looks good from a distance (or on your monitor), but once you get close, will there be too many flaws? When you lay with her, will she be supple & willing, or will she be rigid & unforgiving? Will she stay true, or disappear? Will she be one of those high-maintenance types?
The only way to know for sure is to take her home & bed her.
Viv herself has ample curves, and this is voluptuous bedding. The queen size sheets provide generous coverage for the queen size mattress, allowing for ease in making the bed (I do believe one should save the huffing & puffing in bed for more pleasent activities than the wrestling of linens). And Viv isn't stingy either — the set is complete, including two standard pillow cases as well as both fitted & flat sheets.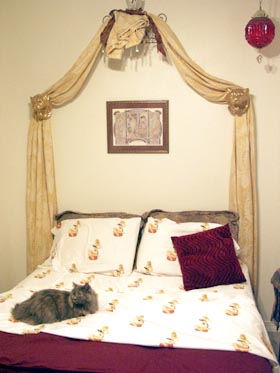 With a 230 thread count, 100% cotton sateen, these sheets are a dream. For those who never think of such things like thread count, let me tell you: good-quality sheets start at 180-thread count, while a count of 200 and above is considered percale — and percale equals quality linens. Cotton sateen sheets are softer than those with a classic linen weave. Along with this silkier touch there's an appealing luster that calls to you…
Once you answer the call, and climb into bed, your skin making contact with the sheets, you'll sigh and feel as contented as you should in your lovers arms.
With luxury like this, you almost don't need the pinup. Almost. *wink*
The printed pinup herself is not some cheap iron-on — she's here to stay! Because the pinup pattern is printed into the cotton, there's no strange texture, no peeling, & she won't wash off. And she looks hot, wash after wash.
Viv is one glamour girl who can take a tumble in bed as well as in the dryer, and still come out a knock out.
Sex kittens, and those who are fans of them, will fall hard for this set of sheets. (But don't worry, it's a soft landing!) Finally, new home decor for your vintage boudoir!
Other Info On The Bedding:
The Joie du Viv pin-up was originally painted by Peter Driben in the 40's. She's a licensed image from the artist's estate. There's not a lot of info on
the girl in the painting, and neither the model or art piece are credited with a name. Peter Driben was very prolific and knocked out tons of work for men's magazines of the day, and Viv (short of Vivian) is one of these classic pinups.
Joie de Viv bedding is proudly Made in the USA by Sin in Linen, a company making unique bedding with tattoo motifs, pinup patterns, flame designs and other funky forms sure to please. Sandy Glaze is the owner, please visit her website.