In 3,500 stores, Walmart will be doubling the space given to Hanesbrands' plus-sized apparel line Just My Size — an extended line of Just My Size women's clothes, including dress pants, sweaters and other merchandise beyond the underwear and jeans.
Hanesbrands research found that 60 percent of women shopping at Walmart fit plus sizes, said John Marsh, senior vice president and general manager of the manufacturer's casual-wear division. About 40 percent of overweight women are comfortable wearing clothes designed as plus size, rather than buying extra-large of regular garments, he said.
Average sized women (for that's what size 12 and up is!) are comfortable with the "plus size" label because we know that honest-to-goodness clothing designed at a plus size is made to fit bigger bodies; you don't just add an inch or more all over and think, "Well that's that! Now it will fit."
This reminds me of last week's episode of Shark Tank…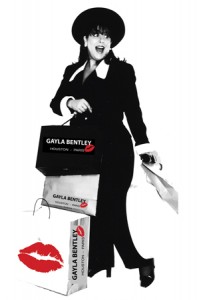 When fashion designer Gayla Bentley appeared, asking for a $250,000 investment (for a 20% stake) in her company so that she could make beautiful clothes easily accessible for large women by expanding her business to include a store to cater to them (and better brand herself), she was met with the a-duh moment from a supposedly savvy investor.
Kevin O'Leary, ever-arrogant (and admittedly the show's love-to-hate guy), said, "Is it possible that larger sized women (and don't beat me with at stick) don't care about fashion as much?"
As if a 60% market share were just that easily ignored (that is has been is an enigma wrapped in a bitter wienie coating), Bentley (completely charming as well as intelligent and talented) continued to educate he and other doubters with  the facts, including her own success; currently the designer sells her products wholesale and online and last year her sales were $500,000. (Yet no bank would give her a loan.) You can watch the episode here (and find out more at Wallet Pop, but the final outcome was that Barbara Corcoran and Daymond John (of FUBU fame) went in 50-50; now we just have to wait to see Bentley's efforts to bring real plus size designer fashions to department stores near you & I.
While I'm in no way comparing Just My Size &/or Hanesbrands to Gayla Bentley's fashions or those by any actual designer, I am encouraged that big business is beginning to see big T n A as a way to fatten their own bottom lines.