I'm old. I have no knowledge of 80's toys which has not occurred as an adult — He-Man included. But I'm fascinated that younger kids – girls — had some rockin' Saturday AM cartoons & toys that gave girls & women more powerful female images (no disrespect to Wonder Woman!).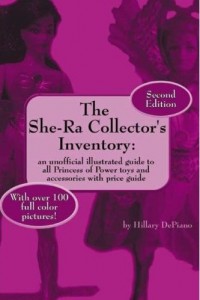 When I discovered that Hillary DePiano, the woman I recently interviewed about her My Little Pony collection, not only collected She-Ra but wrote the book on the retro "grrl power" toys, I had to speak with her about them.
Hillary, tell me what it was about She-Ra that captured you as a kid — and how did that fit with your more girlie My Little Pony love?
I think the idea of My Little Pony as girlie is sort of a misconception brought on by the fact that the MLP toys of today are all about nothing but tea parties. I was introduced to them through the cartoons of the 80s and those were dark and very action oriented. In an average day, My Little Pony fought off soul stealing demons, witches, and did battle against ghosts, possessed furniture and all sorts of weird things. In the cartoon a few of them were presented with defensive magic powers to help them fight these enemies so to me they were always a part of the same girl power movement as She-Ra. They were a butt kicking female oriented society with few men and those men were total wimps. If someone had told my younger self that She-Ra's flying horse Swift Wind was a displaced My Little Pony, I would have totally believed it.
I always pictured them going into battle side by side.
As a collector, dealer, and author, do you see an differences among the My Little Pony collectors and the She-Ra collectors?
Well it is important to designate that, while My Little Pony is a somewhat standalone toy line, She-Ra is a subsection of the Masters of the Universe toyline that includes He-Man. It's an important thing to note because you have collectors who collect only the She-Ra toys and nothing else and then collectors that are collectors of the entire Masters of the Universe (usually called MOTU) toy line who collect She-Ra as a part of that. Many of those collectors are guys who are somewhat begrudging She-Ra collectors, I have noticed.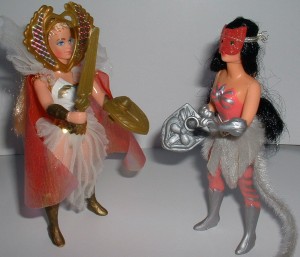 There are also significantly less She-Ra items. They are a very different toy to collect because, unlike My Little Pony, it is actually possible to complete your collection which is a kind of thrill collecting MLP will never give.
Interestingly enough, I started somewhat backwards. He-Man predated She-Ra by quite a few years and as a kid I just LOVED He-Man. I had quite a few of the toys. But when the spin-off show, She-Ra came out, my parents decided that since there was now a "girl version" that I had to give all my He-Man figures to my brother and that he would play with them and I would get the She-Ra. God, was I bitter about that. I think there is some feminism lesson in there.
So, in the beginning, I was playing with one eye on my brother saying to myself, Is he taking care of my He-Men figures?
But as the cartoon developed I really started to love the She-Ra universe. There was a lot more magic than in He-Man and She-Ra had all these extra super powers that made her ripe for more interesting adventures.
As an adult, do you see anything else in She-Ra, or her cultural place? Or do you collect primarily based on a sense of nostalgia?
I actually have been talking about She-Ra a good deal lately in the cultural context as I watch my younger cousins grow up. I find it really interesting that my generation grew up with this super powered female hero with She-Ra and then got Xena and Buffy when we moved into middle and high school. To me it isn't surprising that now that we are all in our 30s there are a record number of females in high business positions, starting small businesses and breaking down barriers. We were raised on all this butt kicking, girl power entertainment our whole lives so it makes perfect sense to me that we are out there kicking butt in our own way.
The reason this came up recently in conversation is because the pattern I see with today's teens scares me. My cousin's generation was raised on the Disney Princess mania, and while I love Disney myself, it does sort of reinforce a very different message about waiting to be rescued by a man and being helpless. I think I would be willing to poopoo the influence of the Princess mania had it not lead directly into this whole twisted Twilight obsession. Their generation went from, "I need to be rescued, I'm a helpless Princess" to their romantic ideal being this abusive, dangerous, controlling figure that is the lead in books like Twilight, House of Night, etc where women are victimized. Now, I read and enjoyed the Twilight books (well, most of them, the 4th book is pretty terrible) but when you step back and look at the pattern, it's scary.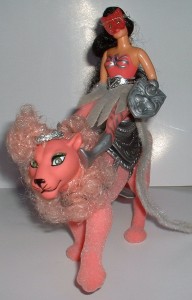 If my generation grew up on powerful, butt kicking women and we took that and became professionally butt kicking, I worry about a generation raised on being helpless and victimized. Of course, we won't know the real effect of this for many years but it is still interesting to consider.
That said, I am sure some of this influenced me on a subliminal level but I only really started to think about it recently. I mainly collected them because I had fond memories of the toys and cartoon show from my childhood.
How large is your She-Ra collection?
At the time I wrote the book, it was complete but for a few international variations and Spinerella. Unfortunately, I have since had to sell a few pieces and playsets for space. That was a part of why I wrote the guide. I knew I was going to have to sell off some of the pieces and I wanted a photographic record of my collection. As I started to set it up, I realized that what I was creating would be of use to any She-Ra fan and I started to look into publishing it.
The best thing about being a She-Ra collector, though, is that you can have every single figure and pretty much keep in all in one medium sized box. It is a much more compact hobby than My Little Pony which can easily take over your entire house. The biggest playset is the Crystal Castle and even that is still only a fraction of the size of My Little Pony's Paradise Estate!
Do you have a favorite piece?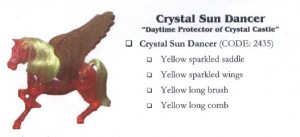 My answer will not surprise you at all. I love the winged horses, obviously. There are quite a few of them (Arrow, Swift Wind, Storm, etc) but my favorites are Crystal Sun Dancer and Crystal Moonbeam. They are supposed to be the daytime and nighttime protectors of the castle and they were made of clear color plastic which means you can see how they are made which is at once weird and cool. As a kid I was fascinated with looking inside of them discovering details like how they added the tails.
From a play standpoint, I just liked the idea of them, that they were these castle sentries that would fend off enemies before anyone else knew the castle was under attack.
The only downside with them, as a collector is that their wings are really sticky. I always have to segregate them from the other figures or wrap them in plastic or they make everything all nasty.
Is there a 'holy grail' in She-Ra collecting? Do you have it?
The biggest grail is Spinerella and I do not have her. A fellow collector donated the photo for the guide book. She can sell for $800 or more mint in box. I never really wanted her when I was a kid because I thought she was silly so I am not really looking to get her now as an adult. But she is definitely the highest ticket item of all the Princess of Power toys.
Is there a piece you are still searching for?
Not really. Every piece I really wanted I aggressively pursued already. I have a tendency to go against the grain with collecting. I don't always go after the pieces everyone wants. Instead I tend to go after only what I want which is usually tied to what I wanted as a kid. So it means I may not always have the best pieces or the most valuable ones but I like what I have.
As a fan of He-Man, do you collect he & his cohorts, or only/primarily She-Ra?
We are in somewhat of a family debate about the He-Man figures. As I mentioned before, they were originally mine and I was forced to give them to my little brother largely against my will. Now my brother wants to sell them for some extra cash and I want to keep the ones that were mine. He thinks he should be able to sell mine as well because my parents gave them to him to play with. I'll let you know how it turns out. But since I am the family eBay seller, I'm sure as heck not selling them for him so he may be out of luck. ;-)
But I like most of the He-Man figures very much. The later ones got a bit silly for my taste but some of them are still cool.
Do you think She-Ra will be revived as Transformers has & He-Man is supposed to be? Why or why not?
She-Ra never gets as much love as He-Man. That said, I know they are already planning a new He-Man movie so if they do make a new MOTU movie and that is a successful, I think any sequel will definitely include She-Ra. If they need someone to play in the movie her, let them know I'll be here waiting. ;-)
I'd like to thank Hillary for the guided tour of She-Ra's universe; I certainly do feel that I may have missed something special by being too old for Saturday morning cartoons in the 80's.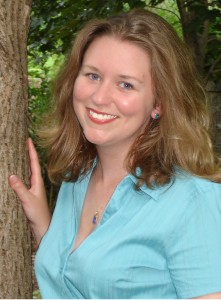 All images courtesy of Hillary DePiano; image of Crystal Sun Dancer from her book, The She-Ra Collector's Inventory: An Unofficial Illustrated Guide to All Princess of Power Toys and Accessories.
Hillary DePiano is a fiction and non-fiction author best known for her play, The Love of Three Oranges, and her e-commerce blog, The Whine Seller. Hillary is a collector of both My Little Pony and She-Ra: Princess of Power toys and has authored collectible guides to both. She can be found buying and selling toys from the 80s through today at Priced Nostalgia.