The piece, a little beauty titled "Woman's Dress and Women's Homes," in which an Englishwoman ever-so-politely snarks about the mode of American dress, was written by Anna A. Rogers (originally in the Atlantic and then published in the November 4, 1907 edition of The Fargo Forum and Daily Republican). In the article, Ms. Rogers quotes an unidentified Englishwoman who had apparently spoken to an unidentified "writer in one of our western cities especially given over to the national passion for dress."
The authenticity, sincerity, and/or seriousness of this piece is up to you to decide; as is Ms. Roger's intent. But comments like "a slovenly 'slavey' attends the door," sure are telling enough on their own.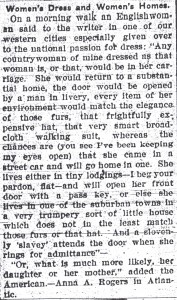 This little bit of joy was discovered via the many hours I spend nerdily reading antique newspapers on microfilm at the Fargo public library (because, as they say, "Library, library, more than a book!"), and so my cost was free — unless you count my taxes, which I am most happy to see go to the preservation and presentation of such things.