Greeting cards are primarily a female thing; I don't think any sane person would argue this. But I feel the need to elaborate anyway.
First by boasting mentioning my past professional work in the greeting card biz with the fabulous Kat Caverly of NoEvil Productions (makers of Greetums), and so asserting my insider knowledge.
Second, by sharing the anecdotal evidence of how this past summer my 13 year old daughter, who spent an hour or more with her grandparents looking at and selecting greeting cards for our annual family birthday party (which combines all five of our May 30 – June 29 birthdays), was brought to tears upon the discovery that the nine year old boy had casually tossed his birthday cards into the waste can in his bedroom just a few days later. (Hey, he's nine; I'm just happy they made it into the proper receptacle rather than being strewn about the floor.)
And third, the strong female demographic is well documented in The Very Best from Hallmark: Greeting Cards Through the Years, by Ellen Stern.
Since greeting cards are the commerce of females, you can learn a lot about women from the history of greeting cards; perhaps doubly so:
"What we make is bought to be given away," says Bill Johnson, the member of Joyce Hall's ingenious and loyal band who was head of public relations from 1966 to 1985. "And that's a lot different than women's shoes. When you buy shoes, you only have to please one person. When you buy a card, you have to please the sender and the recipient."
Seen in that light, it's difficult not to take a dim view of The Very Best from Hallmark: Greeting Cards Through the Years author Ellen Stern's comment, on page 82, regarding the "poor working girl" cards.
As early as 1910, Marie Dressler was singing "Heaven will protect the working girl." A lot she knew. The working girl has always been the very model of self-reliance… and self-pity.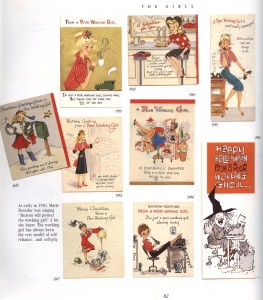 "Self-pity?" Why is it that such woman-to-woman commiseration is so poorly understood, yet the author admits such commiseration in the Hard Times chapter devoted to greeting cards of The Great Depression, saying, on page 129, "During the depression, it was a plight to be shared. Not even greeting cards could escape the reality of rumbling stomachs and tattered clothes." Certainly working women would like to acknowledge to one another their own workplace plight.
Also the demeaning use of "working girl" rather than "working woman" shows something of Stern's stance; even if the old cards referred to adult employed females as "working girls," Stern could have expressed her regard for the phrase with quotes surrounding the derogatory phrase.
Stern's sentiments about self-pitying working women may be accurate based on what's observable in the book, but wasn't she herself in 1988 a working woman willing to commiserate and understand the cards presented? Was she getting paid 100% of her authorship dollar that a man who wrote this book would have? Or maybe Stern agreed with the sipping coffee, legs up on desk, images of "girls" at work. Wartime cards were of a battle understood; but I guess the battle of the sexes, of equal respect in the workplace, of equal work for equal pay, was a battle Stern wasn't into.
But perhaps most intriguing of all are the plethora of lingerie themed cards.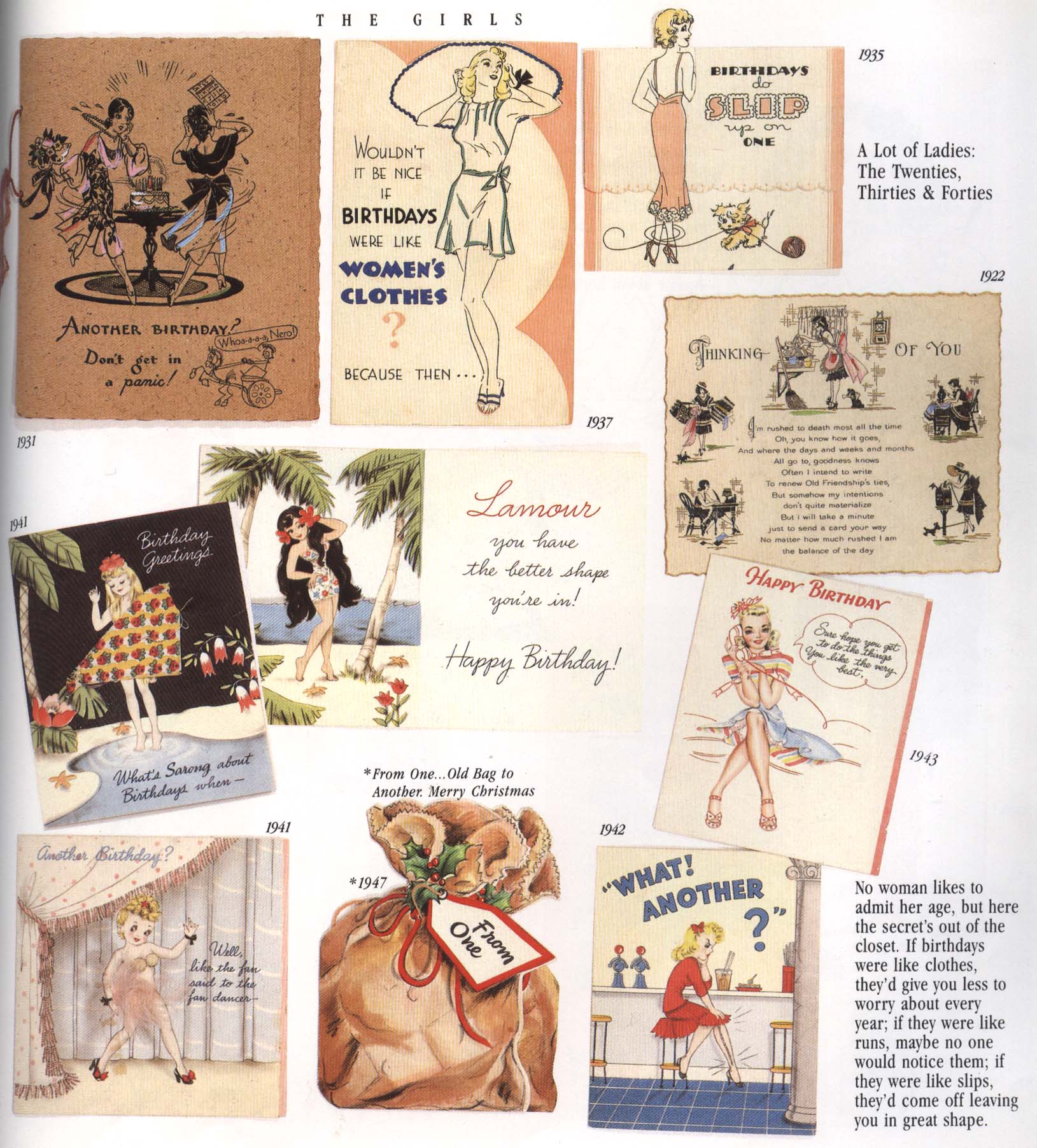 You might be tempted to pass them off as simply risque — sexist use of the female form for men; but remember, greeting cards are a woman's thing, bought by & given to other women. And so maybe it seems a women's lingerie thing you wouldn't understand…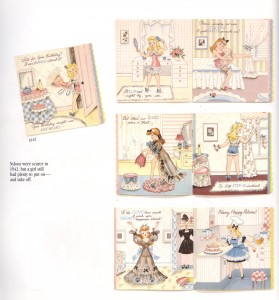 While Hallmark was run by a man — or men with a few "poor working girls," and can be seen as The Man, you can't deny the serious dedication the company had to targeted marketing. They spent oodles of dollars and gobs of time focused on what sold and who bought it — including focus groups of women. If women weren't buying the charming illustrations of women in their dainties and picture-laden puns of underthings, Hallmark wouldn't have made them. Let alone so many of them.
And heck, I'll admit I'm charmed by such illustrations & puns.
So one has to at least include the probability that women's adoration of the female form, our so-called bisexuality or ability to be more fluid in our sexuality, has been around for a long time and perhaps has as much to do with "sex sells," sexist ads, and our culture's consumption of pornography as the patriarchy does.