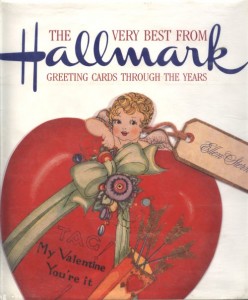 The Very Best from Hallmark: Greeting Cards Through the Years, by Ellen Stern, is not a collector's guide, really; there are no prices or discussion of the secondary market at all. However, savvy collectors and historians who view the world through pop culture vision glasses can learn much from this out of print book published in 1988, which is approaching collectibility itself.
Collectors who are lucky enough to find their cards represented here may ascertain their card's publication date. Or identify potentially rare cards, such as those which were pulled as failures — like the time Hallmark inadvertently used an X-ray of human bowels rather than the intended heart X-ray for its "heart's in the right place" card. (Pulled cards would mean fewer in circulation and even rarer finds for collectors — worthy of higher prices, certainly.) But mainly, collectors will gain more insight into greeting cards — in general, and, especially, the Hallmark variety.
(Clearly The Very Best from Hallmark is a corporate sanctioned publication, but I don't think anyone can challenge Hallmark's market share superiority or the company's longevity — both of which speak to the book's genuine insight into a culture that buys so many greeting cards.)
Ellen Stern's introduction to the book gives a very brief history of the greeting card along with a rather erratic telling of the story of Joyce C. Hall, Hallmark's founder. I realize Stern's job of taking centuries of greeting card history and stuffing it — along with greater detail of the Hallmark company specifically — into a mere 12 pages (including space for images) is no small task; but something's wrong when I have to re-read paragraphs over again to understand what she's saying. However, when Stern gets into the aspects about the workings of Hallmark, from art department design to product marketing, she shines.
Here are a few gems:
On a trip to New York in the 1940s, accompanied by Hallmark's head of corporate design and a couple of artists, [J.C. Hall] would visit Lord & Taylor, Bloomingdale's, and Bonwit Teller — and there be ushered out because the group was taking too many notes on colors, styles, and windows displays. Everywhere he roamed he analyzed, assessed, and appreciated the wares and wonders…
I do this myself; but as I do my note-taking without entourage, I've never been escorted out.
In the 1940s and fifties, in department stores and card shops, Hallmark clerks adhered to a dress code — wearing only black, brown, navy, or charcoal gray — so as not to compete with the merchandise.
As a person who's served a long retail sentence, I find that fascinating — and wonder why they changed the policy.
Dean Walley was a journalism major at the University of Missouri before joining Hallmark. Now one of the senior writers, he's also the man who offers a marvelous course in American manners — and manners of speaking — to the artists and writers. Projecting slides of old cards from Hallmark's archives on a small screen, he will rhapsodize on a colloquialism here, chuckle at an antiquated idea there, applaud an adjective, blast a dialect. He loves the high-falutin' use of the word "grand," the bravado of "staunch," the evasiveness of "To a certain cheerful someone." His sentimental olio embraces cards of every era, every province: a bluebird of the twenties chirping "Please Hurry Back," a Dutch girl saying "To mine friend," a tippler saying "Happy Birschday to You," greetings to the dentist, a quack from Donald Duck. The point is that Hallmark writers must keep up with the language as it changes.
If you collect or read any vintage printed matter &/or antique publications, you know how true — and puzzling — this is; language is often as ephemeral as old paper itself. (Oh, how I'd love to dish with Dean Walley!)
And that's all before we get to the over 750 images of vintage Hallmark cards.
Looking at the images, I reaffirm my love of vintage illustration. But it's not all charming — or at least not all simply charming. There are things to note about our culture here.
Some of these things are noted by the author, like on page 45 where among the images of vintage greeting cards (birthday cards from the 1930s, shown at left) the author observes, "You couldn't get a drink, but you could still say 'Hell' on a greeting card. By the fifties, it would be just the opposite."
There have been many changes in deed; and our general history has been documented in this specific form of ephemera. In the forward, Stern has this to say:
The ups and downs of our economy, our hemlines, and our mood: such is the grist for the Hallmark mill. The days of our lives, as you will see on the following pages, are reflected in the cards of our days. Prohibition, fitness, the income tax, Vietnam, the G-man, the G.O.P., women's suffrage, women's lib, the radio, the jukebox, the computer, talkies, hula hoops, the Atom bomb, the gray flannel suit, the mini skirt, My Fair Lady, Huey Long, Mickey Mouse, the TV quiz show, the fireside chat, the Duchess of Windsor, Miss Piggy, Sputnik, the beatnik, Charlie Brown, Charles Lindbergh, canasta, Mussolini, rationing, cowboys, hippies, hillbillies, bobby soxers, flappers, the Dionne Quints, Valley Girls, the airplane, the blackout, the Crash. The seasons come, the seasons go, and Hallmark is up to the minute.

"Actually, says Bill Johnson [head of Hallmark's public relations from 1966 to 1985], most cards reflect more everyday life than national events. And a national event does not in itself bring about a card. Most are ignored by the greeting card industry. It would be a folly to pretend that by looking at cards from 1920 to 1935, say, you'd get a full idea of what was going on in America." But you get a pretty good one.
I think that's true. Especially what Johnson says. But it's here that we learn some things which are (rather miraculously) not noted by the author.
As you critical thinkers probably have noticed, there's not a damn mention of civil rights. I didn't not present them; they are not in the book (even though Beatniks garner two pages worth of attention).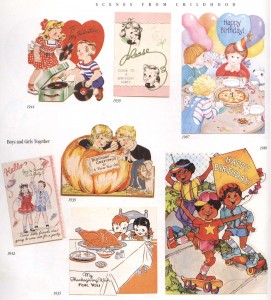 OK, I'll admit a "civil rights" themed greeting card is probably not too likely to become a best seller, but where are the persons of color? In the over 750 images of "Hallmark's best greeting cards, spanning seven crowded decades of American life," I found exactly two cards of what I'll call non-white people — that weren't Mussolini or other rather racist depiction of foreign public political figures. I'm sure too that Hallmark made many more racist cards once upon a time — which they were too ashamed of to share in the book — but to not address the whole issue of race is odd… At least show more than two cards with black folks, right?
Whether or not Hallmark does or doesn't make cards which are more reflective of our society is research I'll leave for others; but we don't see much represented here.
Then again, perhaps that's a problem best explained by the context of the time at which this book was published.
This 1980s book makes clear choices to mention and display the G.O.P. several times (yet I found no clear representations of the Democratic Party) and the republicans of the 80's certainly weren't building their platform on civil rights; ultraconservative republicans disliked Affirmative Action and, in a backlash against it, President Ronald Reagan cut funding for the Equal Employment Opportunity Commission and the civil rights division of the Justice Department. Of course, I could be connecting some dots based on those missing dots, creating an image that doesn't really exist, but I don't think so. I think the G.O.P. populist pride slant is part of the book's construction.
But that doesn't necessarily detract from the book either. At least not if you are a critical thinker. This book may have intended to document our American history through the social connection of greeting card commerce up to its then present day of 1988, but it also documents, through its selections and omissions, a view of that once present day of 1988 which is now a part of our history.
If this is the sort of stuff that fascinates you half as much as it does me, get a copy. (The book is not as common as you might think for a 1988 title; however, it's not as rare as the Amazon listings might indicate, so check for it at eBay.) If you're not sure yet, stick around; I'll be discussing some more from this book during the next few weeks. (If I make the posts really long, I know you won't read all of it!)