I've been trying to ignore every impulse I've had to blog about the Gosselins. Sure, I've spat at the TV and grumbled at my pc (just ask hubby for confirmation), but I've put off writing about them — until Catherinette, that is.
When she tweeted her dislike of Kate, I just couldn't refuse the bait. Witnessing how so many are oblivious to the facts here drives me crazy. Crazy enough to challenge Catherinette to a duel for Kate Gosselin's honor. (Or, baring her "honor," at least for some understanding.) Even though I know Catherinette's post is likely to be far more clever to read, I challenged her. (And even the entertainment value is part of the problem; it's much easier to impart the snark than it is to look at the real issues here. Especially if those issues have something to do with you, your behaviors, your value-laden actions.) So I probably won't "win" this duel; not only is what I have to say far less entertaining, but Catherinette has far more vocal readers than I. But like many who have doth declared a duel, I must do it in spite of winning and simply for the principal of the thing.
First of all, we, the collective "we" of society, are partly responsible for the Gosselins being on TV in the first place. Read through any publication from the past, and you'll see that we humans have a long history of loving to vicariously follow the lives of people we don't know. Before film, before more timely mass communication gave us the ability to herald public figures on the national or international scene, we read the local society pages & made local celebrities out of those people in our local bergs — especially those who could travel to the big cities and see the opera or buy Paris fashions.
Unusual human drama was the stuff we entertained ourselves with during our hum-drum days and nights. We consoled ourselves as "at least not having those problems," and puffed our chests with "proof" that the rich had more dollars than sense.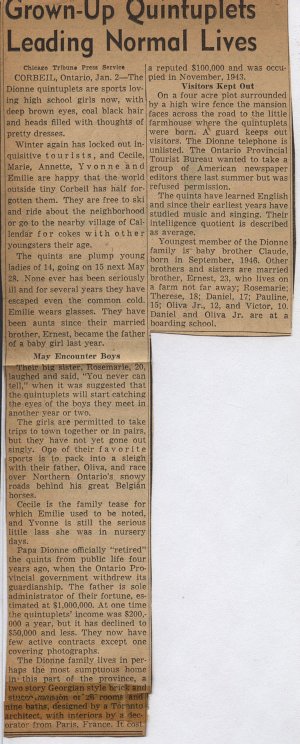 Throw children into the mix — especially an unusual number of babies — and whoa, Nellie, we're smitten. Why else do I continue to find so much evidence of the Dionne Quints?
The Dionne Quintuplets who, by the way, grew up under the intense media spotlight yet turned out normal — and by "normal," I mean they have as adults complained about their not normal childhoods. Children everywhere complain about their parents, the lots they are born into, even without such public interest & scrutiny.
Think I'm being cold & crass? Before their complaints, we didn't feel responsible for literally buying their story; since their complaints, we continue to buy the lives of others.
While I'll leave it to others to debate the "who had it worse, the Dionne Quints or Jon & Kate's + 8?" and/or the "do the plus eight have it any worse than any child actor?" I will say that most folks justify their watching and purchasing with a "Had they not our dollars, where would they be? Had they not been born a litter of five or eight, who can say where they would have ended up…"
OK, so even if you don't agree with the choices Jon and Kate made (and I did turn down Wife Swap), to make some money off the general public interest in their über sized family of tiny tots, you must at least see how tempting such monetary gains would be when faced with the costs and work of raising such a large family. And the decision was theirs to make.
If you don't get it, I don't see any way to convince you. So I'll move along.
My next point is that Jon's a jerk.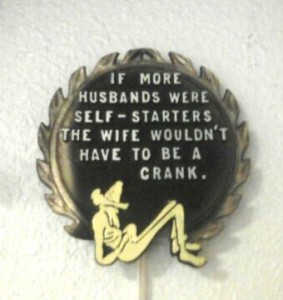 Even without the publicity, Jon's a poster-boy for male jerks everywhere who eschew family responsibilities. From the beginning of the show, Jon has sat back and done very little with his kids. Even less for his wife. When people say, "Kate's a bitch," I say, "Of course she looks like one. What woman can shoulder what she does and not look like she's bossy?" And I don't just mean the number of kids.
Worse than simply lazy, Jon's a nightmare.
Jon's passive-aggressive behavior reads off the television screen like a text book case for psych students. He doesn't lift a finger unless he's told to, does a half-assed job of it (if he actually does anything) — and then he stares into the camera and plays victim to millions — millions who then view Kate, the responsible party trying to get her husband to participate in his life, as mean.
It's crazy-making and abusive. Enough to dislike him for on its own.
But then he cheats.
Looking for escape from a reality he created, he continues to paint himself the victim while he partys-on, dude.
And then he tries to leak a story about Kate's cheating, just to make himself look, hell, I don't know, "better" as the victim again. *sigh*
Jon says he's not, despite his plethora of boys toys (of the mechanic, electronic, and human female varieties) and mode of recapturing-my-youth rocker garb, having a midlife crisis. Maybe he's not. Like drugs, a midlife crisis is not required to be an asshole; but such things help.
Meanwhile, Kate, who likely has been worried about this whole thing for years now (even if not consciously), continues to try to get what she can for her kids. Jon complains about her book tours — and some of the public bitches in agreement. But really, would you have any respect for a woman who didn't do anything to support her kids? Why is Kate blamed for wanting to use what popularity she has & leverage it into something more? I don't have eight children, but I continually worry about feeding & providing for the kids I do have.
And when talking heads & comedians mock the Gosselins for being out & about, not home with their kids, there are distinctions to be made: Momma's working, daddy's an asshat.
But even if both parents are out of the home working, leaving the kids with other childcare providers, so what? Millions of us do it every single day. So these parents have a much longer commute, traveling to the far more fashionable production coasts; the same talking heads on TV do it all the time. Does anyone wonder just who is watching Stephen Colbert's kids? Or Nicole Kidman's?
I'm soooooo tired of people bitching about Kate when she's been victimized and abused here.
No, she hasn't handled everything with as much aplomb as you'd like to imagine you would. Being the sane responsible one who looks like the problem drives you crazy — and sometimes you act like it. And divorces bring out the worst in people. Even when you are trying so hard to do the right thing.
It sucks that this drama is playing out in public, especially for the kids. But dude, let's keep some perspective here. As a kid, you're worried about what your friends will say or think… Your friends and the kids at school, the kids in the neighborhood, at day care, your cousins, maybe. And even without such a media frenzy, all those kids would already know that your dad's a jerk because they will have met him — or heard from some other kid who has. Seeing Daddy Dearest on TV, boozing it up with other babes only confirms what they already know. And it helps explain why your mom is tight-lipped, teary-eyed, and sometimes failing while trying to hard to hold it together.
Give her a break.
And start with a hard look at yourself. What is it that Kate brings up in your own life, about your actions/beliefs/behaviors, which you are trying so hard not to see or be responsible for?
PS In case Catherinette should mention Kate's hair cut…
My middle child went out and got Kate's haircut a few months ago. Did she intend to get Kate's haircut? I can't say; Destiny was with her biological mom that day. But the 80's are back, baby, and asymmetrical haircuts along with it.
Besides, if Kate's hair is anything like Destiny's, that haircut is completely wash-and-go. Who couldn't use that much style with eight kids, a lazy husband, a busy traveling work life, and continual media attention?