When I saw this 1960's mod-meets-Edwardian little black velvet mini dress, which looks like a jumper over cream ruffled blouse and trimmed in gold braiding, I instantly thought of Goldie Hawn.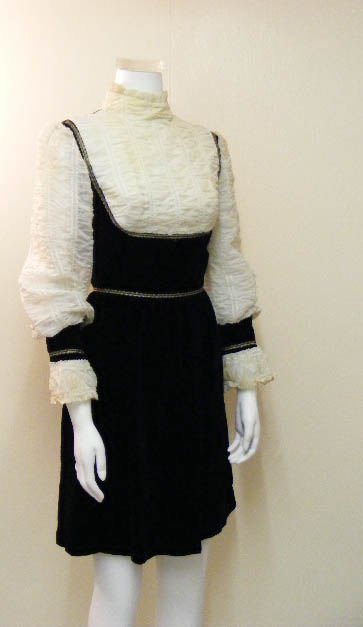 Goldie, like the Atria dress above, had an incredible way of taking a simple, even older looking fashion design, and breathing new life into it.
Some people think of Goldie Hawn — and any babydoll mini dress, really — as an exploitative thing. They tend to view short feminine dresses as something sinister involving the sexualization of children. But I don't think that's quite right… At least not always.
If you remove the 'babydoll' from the description, and just look at the dresses, they do express traits we tend to equate with children: simplicity, innocence, delight in bright cheery colors (not dwelling in those dull colors symbolical of adult conformity), the unencumbered freedom of a swinging skirt above bare mobile legs. But are these things only for children?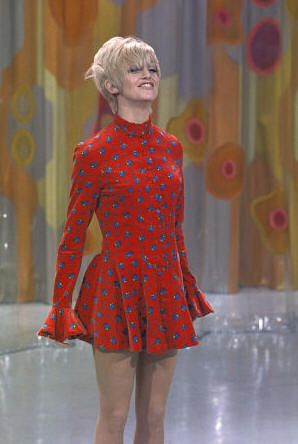 Sure, I think Goldie's warm, sunny, playful confidence was sexy — but not one that risked the promotion of pedophilia. You ought not mistake childlike for being an actual child.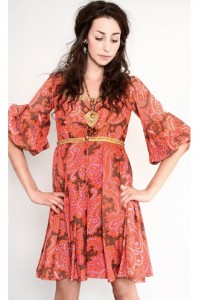 Like so many of the characters Goldie played, she may have seemed direct and simple to the point of silliness, but her innocence was anything but dumb; possessing the wisdom of a child and the charm of childlike innocence without being a child is beautiful. And Goldie matched that beauty with her own natural beauty which didn't rely on lots of accessories and artifice. For a woman to be so comfortable in her own skin, happy to express that she was a girl — not just unapologetically female, but celebrating femininity — that's spectacular.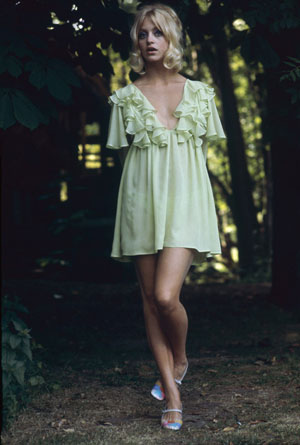 In the 60's and 70's, Goldie was a visual reminder to avoid, as The Graduate would say, the 'plastics,' the mold-fitting uniformity of the establishment. But unlike the cold mod of Twiggy which held you at a disdainful fashion distance (and at a fashionable distance of social disdain), Goldie invited you in to play with her. Not (simply) sexually; but to come play, laugh, learn, and experience with her.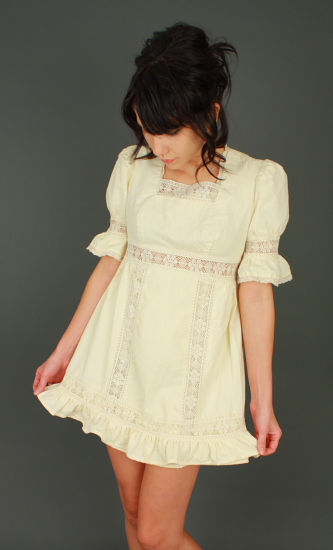 In truth, such babydoll dresses better suit the slim and less 'womanly' shaped among us. In part because curves require garments with more structure to restrain &/or retain than most babydoll dresses have.  But primarily the problem isn't so much that babydoll dresses are less apt at covering ample bosoms and rounder aft-areas (things which could be addressed if fashion was properly sized for real women's bodies), but rather that society deems such displays of female form, however natural, as solicitations — offers to men that women and children have no right to refuse.
That people don't always see the more honest virtues in those retro babydoll dresses makes me more than a little sad; it makes me ill.