There's truth in comics, you know. Just look at this statement on the power of women's voices: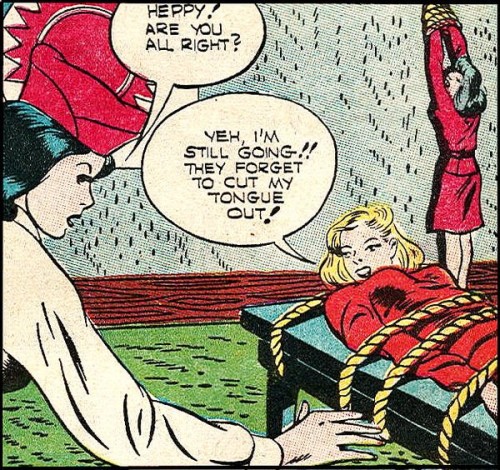 The brunette is Pat Patriot, "America's Joan of Arc," and the blonde is Heppy, her sidekick, I guess. This is how they appeared in Charles Biro and Bob Wood's Daredevil #11, June 1942. Lovingly scanned & presented at Pappy's Golden Age Comics, where, just in case you think I picked the most misogynistic or salacious part, Pappy notes the following:
Pat has a villain worthy of his name, The Mallet. He's a torturer, and we get some juicy panels with some bondage and torture.
As is oft the case with comics, sex and sexism are in there as a mix of thrill and the ultimate threat. (And, as this is wartime, so is the racism.) But what's really interesting is the fact that even if the setreotype of the jabber-mouth woman is there, this vintage comic does present the truth: No matter what you go through, if you've got your ability to communicate, your truth is your power.
Heppy! We women with voices are all right indeed.
PS As a feminist, I heartily support your right to consensual bondage and torture scenes. I just felt that needed to be said.