There obviously some errors in the text — the misspelling of Bettie Page as "Betty Page" and frankly, I am completely lost in the description of this paper doll for playboys…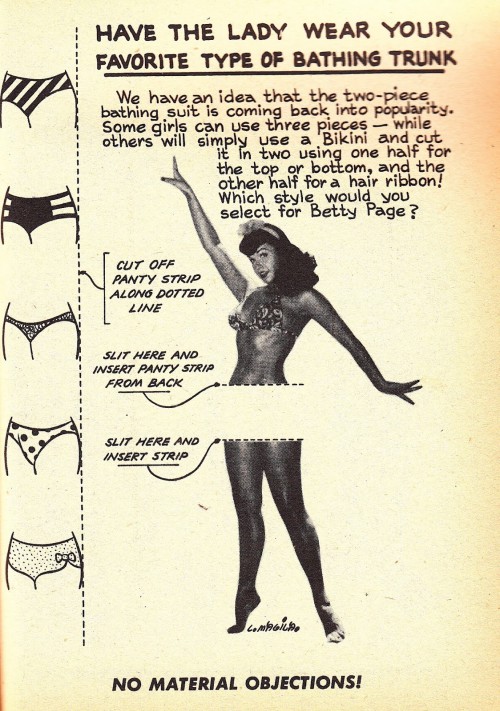 However, this post is not about the text or even the fact that you almost expect one of the options to be a smooth Barbie-doll-esque image to make Bettie go bottomless; it's about the art of Lou Magila.
Jim Linderman of Vintage Sleaze doesn't like this artist — or at least the guys' works. But I have to vehemently disagree.
As a woman, I often find the most real thing about a man's fantasy is the image of a pinup or media babe inserted into some sketchy scenario. Like the pornos with the world's luckiest pizza delivery dudes, the scene isn't as important as just getting to the babe.
Yes, a lot of attention is being brought to the fact that the women in the photos do not even look like the women who posed for them; but the only thing faker than the photoshoped objects of desire are the scenes and situations in which men place the perfected images of women. Is there anything wrong with that? No; they are fantasies after all. (Expecting them to be real is another matter entirely, and one at the very definition of "sanity".)
So what's wrong with cartoons, illustrations, comics that capture that luscious and ludicrous point of view? There's something rather charming about the obviously juvenile approach to just sticking the woman into the simple bare lines. It makes me feel like the artist was aware of how simplistic fantasies are. I don't know Magila; maybe he was self aware, maybe not. But like a lot of art, you just look at it and get impressions. My impression is that this artist was aware.
Did Magila rip-off other artists? Maybe he or the publisher paid for the rights; maybe not. Maybe, like the altered artists, digital artists, bloggers,etc. of today, artist and publisher alike just figured if they had their hands on something that meant it was in the public domain. Or perhaps they felt that there were enough changes to defend Maglia's work as derivative. So far, the answers to those intellectual property rights are as unclear as the artist's level of awareness of the simplicity of male fantasies.
I hope Linderman continues to suss things out.