Featured on the cover of People Today
, September 22, 1954, was "Marjorie Hellen… TV's Golden Girl."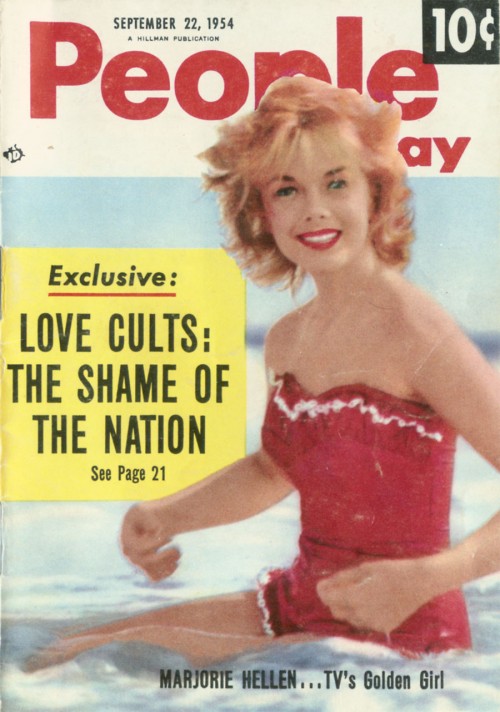 Her story begins on page 55, filed under "People In TV," Hellen's story is titled She's 'Compatible' Marjorie Hellen Is Strawberry Blond Trade-Mark on Color TV.
If that's not intriguing enough, check out the caption under the photo: "Marjorie And Her Rival Black-And-White Test Pattern (rear)".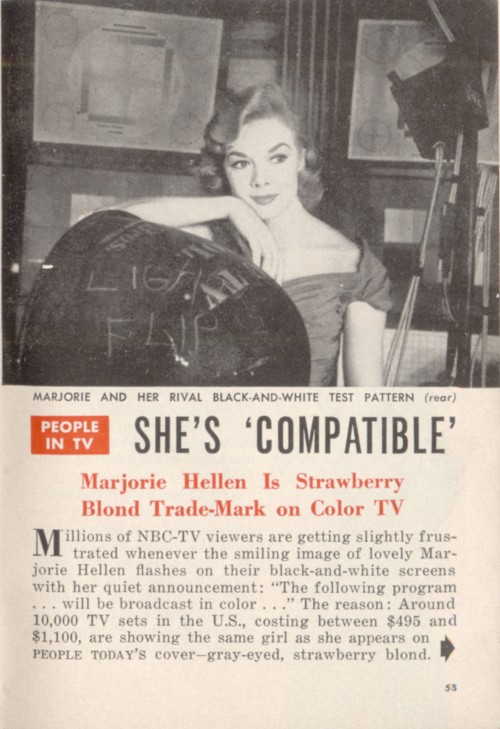 From the article:
Millions of NBC-TV viewers are getting slightly frustrated whenever the smiling image of lovely Marjorie Hellen flashes on their black-and-white screens with her quiet announcement: "The following program…will be broadcast in color …" The reason: Around 10,000 TV sets in the U.S., costing between $495 and $1,100, are showing the same girl as she appears on PEOPLE TODAY'S cover–gray-eyed, strawberry blond.

Marjorie, who doubles as a live test pattern for sensitive color cameras, is the "identification girl" for NBC Color TV, which has scheduled 39 90-minute "spectaculars" for its compatible system (the shows can also be received in black-and-white) during 1954-1955.
The article credits "an attack of anemia" for Hellen getting the gig — not specifically for her coloring (though only her doctor knows for sure), but for her availability:
It kept her from going to school, made her available when Claude Traverse, manager of NBC's color unit, selected her from photos as having the "ideal flesh tone" for lining up color cameras.
Hellen may be more familiar to you as Leslie Parrish; she changed her name in 1959.