This vintage travel photo is awesome on its own, but it's also a culmination of many posts I've made today! (Hint: That means all but one of the the links are to my posts at other blogs. It will be like you traveling with me!)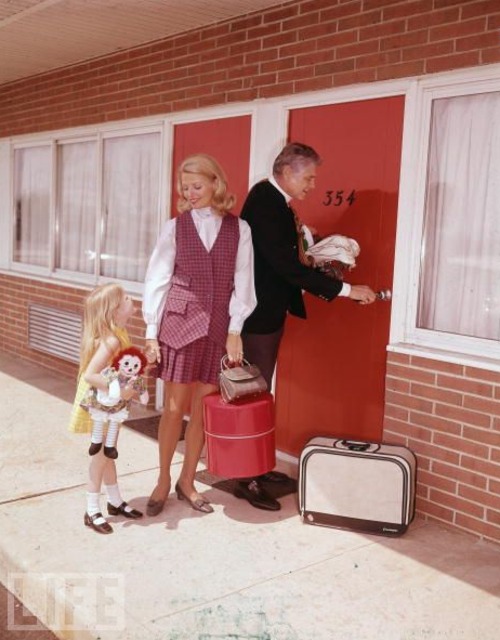 Life magazine posted it at Tumblr, saying:
Hostel? Clean? Those two words in the same sentence? Wow, what a foreign concept for many of us— let's take a trip back to When Hostels Were Clean (yes, once upon a time they were clean…)

We want to hear from you: tell us about your worst hostel experience.
I don't think this is a true hostel; it looks like a motel. I would also accept the inaccurate use of hotel. But not a hostel. It's not just my experience which says so; I look at a lot of (and post a lot) of vintage travel images. But in any case, note how mom has her portable hairdryer in hand. Americans probably wouldn't bother to bring a hairdryer to a hostel… However, you would bring one before you bring a child.
Speaking of vintage hairdryers…
Traveling with one is preferred over packing your vacuum. Even if it can clean and double as a hairdryer.
Anyway, I'm lovin' following Life at Tumblr (this is me at Tumblr, in case you wanna follow me there); I also posted this about Life's contest tomorrow.