Reposting this from another site (as I will be deleting that old thing) – in light of my conflicted desires about seeing the new Natalie Wood documentary – which, sadly, was in the press at the same time as coverage of Kirk Douglas' death, and the rape that Robert Downey Jr. is supposed to have outed (tho it wasn't really a secret).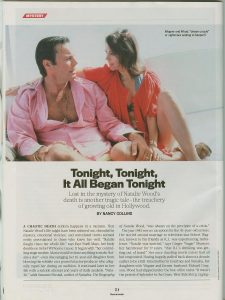 It takes me a while to get around to reading all the magazines laying around our house. Not just the vintage ones, but the new ones that keep arriving. Normally I wouldn't be so keen to mention the belated reading of a story that's already made the rounds on the Internet at the end of last year, but this one struck me.
In the December 26, 2011/January 2, 2012 issue of Newsweek, Nancy Collins covers the mysterious death of Natalie Wood. The story is "newsworthy" because the Los Angeles County Sheriff's Department has decided to reopen the case of Natalie's drowning death based on new testimony from several witnesses, including that of the actress' boat's captain, Dennis Davern who published a book about Wood's death, Goodbye Natalie, Goodbye Splendour (2009).
I remember being in high school when Natalie's body was found on November 29, 1981. I knew little of Natalie then. I had only recently discovered her in a TV viewing of Westside Story, and, like most everyone, had fallen in love with her as Maria. In my state of youth, however, I did not quite consider her "old" at the age of 43 — perhaps because she was still the vivacious Maria in my mind. Even then I was not a celeb-hound and did not read the myriad of publications making money off her death, and so I was not bombarded with other images of an older Natalie Wood.
All of this makes me slightly odd, I'm sure.
But I do remember being not only sad at her death, but feeling a certain mistrust, a certain suspicion of an accidental drowning.
It was rather a haunting feeling. Something that's stuck with me all these years and had me reading the article in Newsweek. But never enough to prompt me to turn detective or anything; plus, my detective skills fall into the research category and as the death was ruled accidental, my skills wouldn't turn up anything new really…
So, reading this article was rather like hearing about Natalie Wood's death for the first time. This time, having seen more of her films than Westside Story, I knew more about the woman, the actress. But the details in this article were news to me.
For example, I never knew that Christopher Walken had been on that boat that fateful night. Not that I knew who Walken was back then. (I've never said I was cool — either as a child or now.) And it was sort of odd to imagine them, Wood and Walken, as contemporaries.
It was also odd to imagine Robert Wagner as he's depicted in this article… He was one of the Harts in Hart To Hart, and he and Stefanie Powers both had seemed tragic for their losses. A more mature me realizes that all these things can be true, can be motive; but they need not be either.
I really have no ideas on the accident Vs. murder angle. Either is just as plausible.
And I agree intellectually with the points of tragedy and age brought up by Nancy Collins in her recent article.
But what strikes me most of all about all of this is the fact that celebrity and death continue to equal profit in publishing.
This means that Collins, the writer, and I, the paying consumer who reads (and continues to write herself), are perpetuating the tragedies involved, aren't we?
What is it about beauty, glamour, talent, death, and tragedy that captures humans so? When they are combined, they create some sort of alchemy that's nearly impossible to deny.
The lives, loves, and losses of these famous people are exaggerated versions of things in our own lives, and the drama does more than intrigue — it creates a shared sense of nostalgia in which we can each experience our own sorrows and joys in a more distant way which may be disconnected from our own pain but also connects us to one another.
For these reasons, stories are powerful, popular and even positive. But when one takes them too far, when one forgets that Natalie was a real person and so her death was real to her and all who love(d) her, and pursues the subject with a fascination which removes the dignity from the souls involved, we are perverse. And this includes the media which banks on such attentions.
So no, I won't seek to consume all media coverage of the newly re-opened Natalie Wood case; I won't set any newsfeeds or searches, scan tabloids at the grocery store, etc. But when these stories appear in the publications and news shows I am already reading and watching, I likely will continue to watch… With a sense of respectful guilt to monitor my level of fascination.