I'm sure this pair of vintage advertising pieces from/for the Hi-Shear Rivet Tool Company were intended to be humorous, in that oh-so-popular risque way of 1952; but I find them predictably insulting. It's not that they're nude — I collect vintage nudes and risque materials. Or even that "he" is allowed modesty while "she" wears the gloves and smile of a burlesque performer. (Frankly, as nearly every woman has noted in the Anthony Weiner affair, the less male genitalia seen the better.) But it's what else is seen inside these "Top Secret" cards when they are open…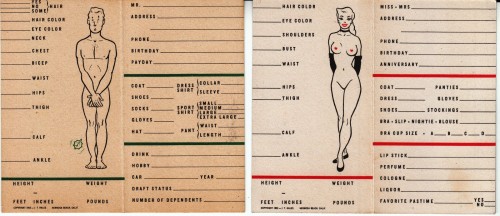 He has a number of dependents — dependents, not children; she has none.
He has a payday; she has none.
He has a car; she has none.
He has a hobby; she has a pastime — with places to check "yes" or "no"?!
*sigh*
Maybe women wouldn't be seen as gold diggers if they had the opportunity to earn their own paychecks, own their own cars, not be seen as dependent children… Have a legitimate hobby even.
Both vintage pieces from the collection of Jim Linderman.