Speaking of John Glenn orbiting the Earth…
NASA's Glenn Research Center will commemorate the 50th anniversary of John Glenn's orbital flight in Friendship 7 by hosting an event, Celebrating John Glenn's Legacy: 50 Years of Americans in Orbit, at 1 p.m. EST on March 2, 2012, at Cleveland State University's Wolstein Center, 2000 Prospect Ave., in Cleveland.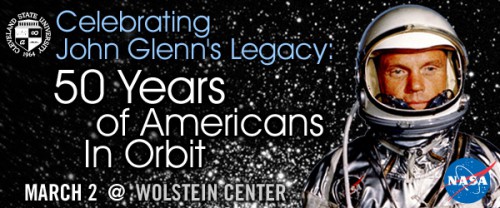 Here's a rundown of the celebratory event program:
NASA Administrator Charles Bolden and Glenn Director Ramon "Ray" Lugo will provide remarks during the one-hour program, which will include a welcome from Cleveland State University President Dr. Ronald Berkman. Space shuttle mission STS-95 pilot Steve Lindsey will pay tribute from the astronaut corps to Glenn. The program will culminate with a keynote address by the guest of honor Sen. John H. Glenn Jr.

Musical performances will be provided by the Cleveland Institute of Music, The Singing Angels and a soloist from Cleveland State University's music program. Doors open at noon and a special pre-program musical performance by the Cleveland Institute of Music will begin at 12:15 p.m., followed by a video tribute to Glenn.

…Others attending the tribute event include agency officials, Ohio astronauts, NASA employees and contractors, elected officials, several hundred high school students throughout northeast Ohio, and 100 Twitter followers selected to participate in a day-long Tweetup event that includes tours of NASA Glenn and its visitor center at the Great Lakes Science Center.
After the official program, Glenn, Bolden and Lugo will participate in a Q&A session with the lucky Tweetup participants.
More than 800 complimentary tickets are being distributed to the general public for this event through a lottery by Cleveland State University in partnership with NASA Glenn. But don't worry if you don't win the lottery — the program will also be carried (streamed) live on NASA Television online. You might miss some swag and photo ops, but you can still see the event as it happens!