I've written before about why I don't collect Black Americana; as a white chick, I don't feel I have the right to document such history. (I'll stick with documenting women's lives with my collecting, thank you.) But since collecting the history of oppressed people intrigues me, I really enjoyed this article about David Pilgrim's collection which will soon be on display at the grand opening of the Jim Crow Museum of Racist Memorabilia on April 26th at Michigan's Ferris University.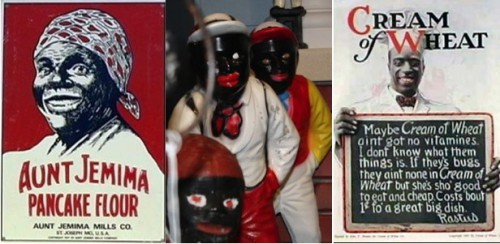 I love a good story about collecting, and Pilgrim's begins thus:
David Pilgrim was 12 years old when he bought his first racist object at a flea market: a saltshaker in the shape of a Mammy. As a young black boy growing up in Mobile, Alabama, he'd seen similar knick-knacks in the homes of friends and neighbors, and he instinctively hated them. As soon as he handed over his money, he threw his purchase to the ground and shattered it into pieces.
But it get's really interesting when Jennie Rothenberg Gritz, an Atlantic senior editor who wrote the piece and interviewed the collector, asked Pilgrim about his progression from destroying the objects to collecting them:
I went to a historically black college, Jarvis Christian College in Texas, and in addition to teaching the usual math and science, our professors would tell us stories of Jim Crow. One day, one of my professors came into the classroom with a chauffer's cap. He set the hat down and asked what historical significance it had.

Now, the obvious answer was that blacks were denied many opportunities, and chauffeuring was one of the few jobs open to them. But that was not right answer. He told us that a lot of professional middle-class blacks in those days always traveled with a chauffer's hat. The reason: If they were driving a nice new car through a small southern town, they didn't want police officers, or any other whites, to know the car belonged to them.

I remember that story so vividly. No object has any meaning other than what we assign to it. But that was an incredible meaning to assign to an object that, on the surface, had little to do with racism.
This is not only proof of my theory about using collectibles to teach, but it shows just how old the problem of Driving While Black really is.