I recently, again, watched Natalie Wood's Gypsy (1962). While the film is stunning — as rich & saturated in period color as it is fashion and sex appeal, I'm always moved by the story.
Yes, there's the somewhat dated camp we now expect of a vintage musical movie, but along with the comedic moments of dancing cows and the suspended belief required for any drama to contain people breaking out into song (often with dance), there's a story. What made me go back and watch the film again was what Peter Burton wrote in his review of Noralee Frankel's Stripping Gypsy: The Life of Gypsy Rose Lee:
Like the musical, Stripping Gypsy is dominated by Rose Hovick, Gypsy Rose Lee's overbearing mother. But whereas the Rose of the Broadway show is a larger-than-life and bullying archetype of the stage mother determined that first one daughter and then the other would become a star, the reality was grimly different.

"Rose's mental illness, emotional brutality and overt bisexuality were not the stuff of a Fifties musical," explains Frankel in the preface to the book, surprisingly the first ever biography of the star. Nor had Rose's more glaring character defects been a part of Gypsy Rose Lee's autobiography, from which the show had been loosely drawn. Frankly she was a monster, entirely without redeeming qualities.

A native of Seattle Gypsy came from a family of strong women who had little use for men. Her grandmother married young, believing that marriage would give her freedom. She spent much of her life as a travelling saleswoman, marketing hats and lingerie to women in far-flung logging and mining camps.

Rose also married young – she was 15 and used marriage to escape her convent school. Once intent on a stage career of her own she soon diverted her ambitions on to her daughters and created a musical act built around June, Gypsy's younger sister.

When June defected also by way of an early marriage Rose turned her attention to her eldest daughter who soon became Gypsy Rose Lee. A legend (fostered and burnished by the star in press interviews and self-penned articles) was born.
Perhaps it's not fair to compare the Broadway musical with the movie version. But then Burton isn't the first to make such comparisons; his was merely the most recent I'd stumbled into. And what always strikes me most about these sorts of comments, that the telling of the story for entertainment purposes isn't properly expressing the grim realities — of Gypsy Rose Lee (born Rose Louise Hovick in 1911), or anyone else's — life.
Obviously, entertainment, be it film or live theatre has it's own unique bumps and grinds translating the real story with what people will pay to see. (See this week's episode of Smash, when the audience fails to enjoy the show because — shocker! — Marilyn dies at the end.) But for me, the real issue has to do with our current level of expectations with the storytelling in movies, television programs and other shows.
We (the collective cultural "we" that does not include me) can no longer handle subtle. We need to be hit over the head, we need to be spoon fed every little thing, and we need it to be as graphic as an explosion.
Maybe you have to have some personal experiences with mental illness, abuse, alcoholism and the like in order to feel the sharp "grim realities." …But that can't be true, for if there's one thing I've learned in all these years is that no one can really be free of these sorts of situations. We have them. We feel them. But when it comes to films and storytelling as entertainment, so many of us can't trust them on the screen unless they are worse than what we've felt or can imagine.
Not me.
I find many of the scenes in Gypsy difficult to watch. I feel the pain, the losses. I feel the embitterment, the waste, even in the triumph of success.
Gypsy Rose Lee may be, arguably, the most famous striptease artist; but for me the story is tainted. Not by the shame or dirt of sex; but by the shame and dirt of a mother's cruelty — which is sad it it's own way too.
In my opinion, no biography or even autobiography is ever capable of exposing the whole truth.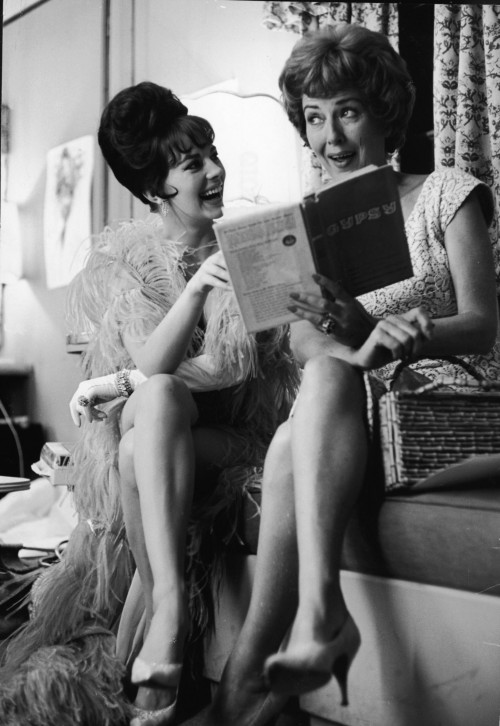 But for me, Gypsy, even as a musical, exposes enough of The Truth to be powerful. As a result, I cannot even look at these vintage black and white photos of Gypsy Rose Lee (take by George Skadding for Life) and not have them tinged with the color of the exhaustion of triumph over sadness. But sadness remains just the same.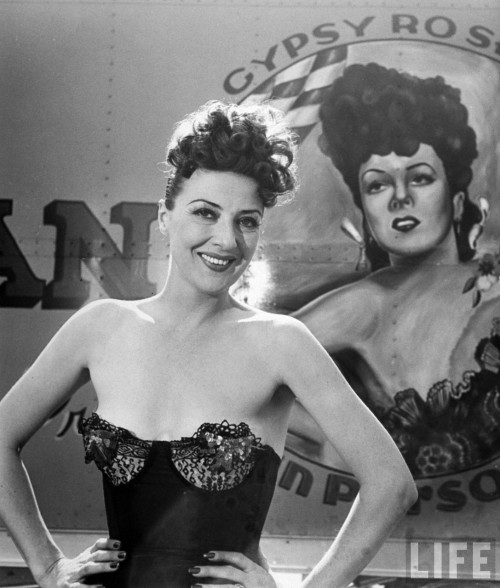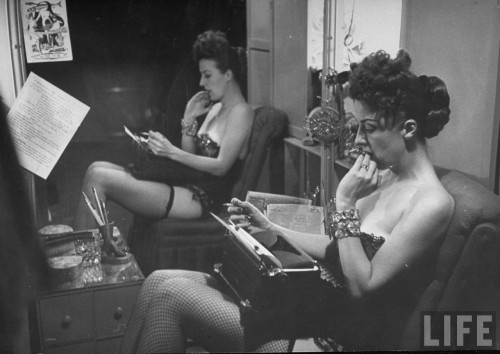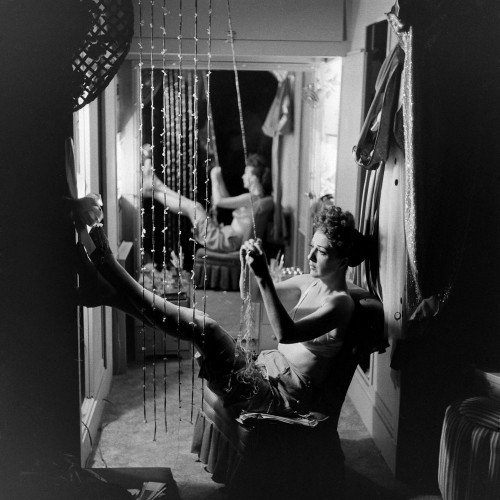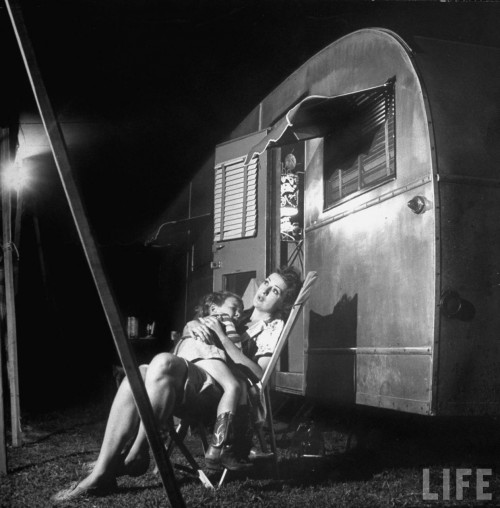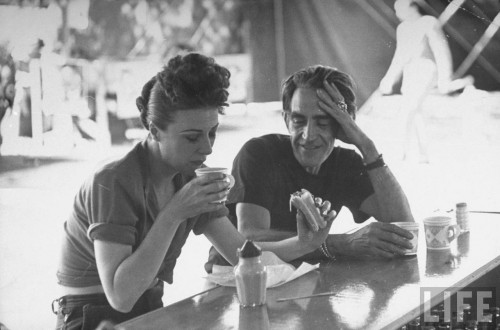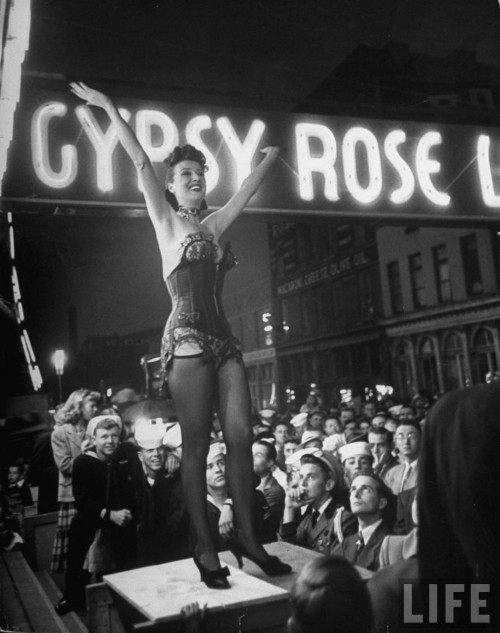 My gawd, how does anyone ever form relationships, mother, after the sort of mothering Gypsy Rose Lee had? So much hard work. …But there are hints of this in Gypsy, if you care to look for the subtle signs.