It occurs to me, as I sit awake, unable to sleep because I am a sweaty mess of hormones and hot flashes, that we have done women a(nother) great disservice.
You know how we start in grade school to educate girls about that special "womanhood" thing? We separate them from the boys, and tell them all about their changing bodies — even before those bodies are changing. I'm not saying it's all aces in terms of such education; but there are far fewer girls running home crying thinking the blood in their panties means they are dying. So why don't we pull young women aside in say high school, and them them all about the other changes their bodies will go through — namely menopause or perimenopause.
And when we teach it, we should teach all of it.
First of all, menopause isn't "the change." As a woman, we experience lots of changes. Menstruation, for example, is not the mere existence of blood in the crotch of our panties. It's not even the evidence of the miracle of life in terms of the biological machinations. Yeah, egg released, womb is lined, womb is shed — but no one tells you about what that means for you and your changing body.
No one tells you that the hormones requires to start this perfectly natural cycle will make you feel like 900 pissed-off and pointy cats live inside of you. Their sharp teeth and claws may not exactly puncture you internally; but are like sandpaper on every last nerve.
No one tells you that the process for shedding the uterine lining means more than "cramps"; how the body resists and reacts to these cramps with everything from hot constipation and burning diarrhea (yes, often both) to increased breast and genital sensitivity and increased sexual desires (yes, often with both again). You may not want to know the details of my lovely cycle, but let's just say it's the frustrating crush of a fist holding everything, including my breath, tight and still — followed by a rush of "everything must get out." That includes skin eruptions and bowels along with my uterine lining.And while everything is sensitive, those utero-contractions make me feel like I'm on the edge of something… Like a great big orgasm, so let's get on with that and get it out too. (Which reminds me, ladies, if we had proper sex education, we'd be telling young women about this reality — and how great vibrators and sex toys can be. Heaven knows, if I'd had known about the joys of a Hitachi Magic Wand in my 20's, I'd have skipped many a bad romance, and better coped with my periods too.)
You're right; this isn't "ladylike." But it's what happens to ladies, to women; so let's stop denying it.
Now, when it comes to menopause, there's a lot more to the ending of this monthly cycle — which, while often hellish, is our damn monthly cycle. We can hate it, but we've just spend decades getting used to it, and now what the hell?!
Thanks to women's magazines and shows like Oprah, there's been some talk about menopause. Frankly, I didn't tune into them all; like the little girl I once was, I figured that change was so far ahead in my life, I didn't need to worry my pretty little head about it. Which is why it was great that sitting down to hear it was a forced mandatory school thing. Hence my belief that the same should be done regarding teaching the realities of menopause to young women in high school.  But anyway, like many of my sisters who are ushering in the age of chronedome, I am amazed to discover there is lots that I don't know about this specific change. Knowing that this particular biological trip is the end of creating life, that this agonizingly slow, back and forth of you have a period then months without it, then BAM! have a period of some sort again, isn't all there is to the story.
You've likely heard of those hot flashes. Well, they are real.
And they are a real bitch.
If you didn't already have insomnia, the hot flashes are enough to give it to you. You lay awake, sweating. You kick off the covers. You turn a fan on, even when just hours before, you were begging your husband to turn the heat up. And when you do pass out for a bit, you wake up frigid. (Not just temperature wise, but sexually too. Because you are sleep deprived and you are aware just how much you freakin' stink from sweating, so the last thing you can imagine is having sex. But wait a while… Your hormones will demand otherwise soon enough. Just pray you haven't alienated your partner too much. Or hit that vib for medicinal reasons — because there will be times that orgams will be the only way to knock yourself out well enough to sleep a few hours.)
And then too, the fan is awesome white-noise to help alleviate insomnia in general. Your partner may not dig this. At best, this adds stress to an already stressful time — leading to more insomnia for you. At worst, you find yourself yelling sarcastically, "Yes, please do turn the fan off. I am completely faking all this wretched sweating just to make you cold at night! It's all about you — always!"
Like I said, it's not pretty. Especially when there's little understanding. And how can there be understanding when the bulk of knowledge about menopause if a joke about the little old ladies with fans?
One other ugly thing I am experiencing is boils. Big nasty, angry-ass boils.
No one wants to talk about these hideous things. Just the other day, I was swapping horrible night-sweat stories with a friend. You know, in that bitter misery-loves-company way involving bitter laughter — until you cry. But I didn't dare bring up the boils. They are just too ugly. Normal, it turns out; but still ugly.
But the whole drive home, I kept kicking myself in the ass for not saying something — for not speaking the truth. What if she had them, but didn't know they were normal? What if she blamed herself for some imaginary hygiene problem? What if she was too embarrassed to talk to her doctor? What if she did mention to her doctor, but that doctor was an ass about it, like mine was? It took me going through some basic boil info to realize that boils are often a part of perimenopause because boils are caused by ingrown hairs (something affected by hormonal changes) and plugged sweat glands or oil ducts (thanks again, hot flashes). So a-duh you can have boils at this time. But thanks, Dr. Ass-Hat, for making me spell it out for you. (Thankfully, you can also have a new doctor at this time too.)
For these reasons, I remain silent to longer.
"Hey, world, I am a suffering yet another painful change in my body and life! This one comes with mood swings, the loss of 'beauty' (i.e. clues to health and fertility) and societal value, hot flashes, sleep deprivation, and big ol' boils! Arg!"
And when people don't get it, when they call you insane or mock you with even the slightest of eyeball rolls for your hormone-ridden life — be it menstruation, pregnancy, or menopause, you want to scream, "Hey, buddy, you can leave any time you friggin' want — me, I'm f-ing stuck here with this situation!"
Now, maybe it's sleep deprivation talking, but all of this reminds me of the depictions we have of witches…
Witches are usually old; with grey or white hair and long noses. Witches are typically depicted with what we call warts, often with a hair jetting out of them. Here I see boils. Boils, as mentioned, are often sprung from a hair follicle.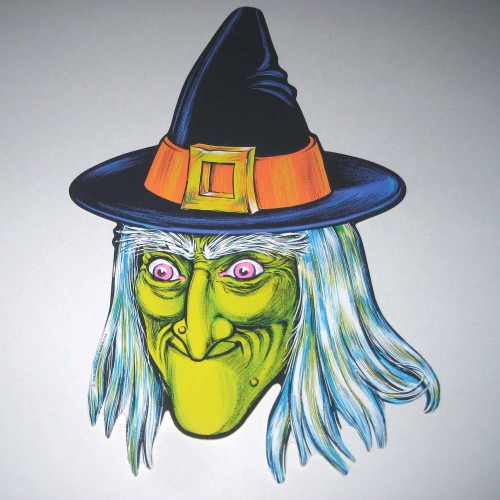 And witches are often shown sweating over a huge caldron of boiling something-or-other. Is that a reference to hot flashes?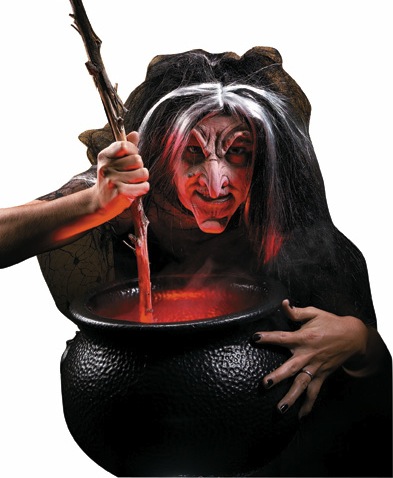 Unlike the idea of wise crones, witches seem to be the ugliest, scariest, icons of menopause.
Perhaps the flying on brooms thing is about older women now being able to leave home and hearth; the scariest thing of all for a woman to do — other than be sexual, of course.