I often wonder about Brooke Shields, especially when I see Pretty Baby. It's been a few years now since I've watched it last, but when I saw this image, I started thinking about the movie and the actress again.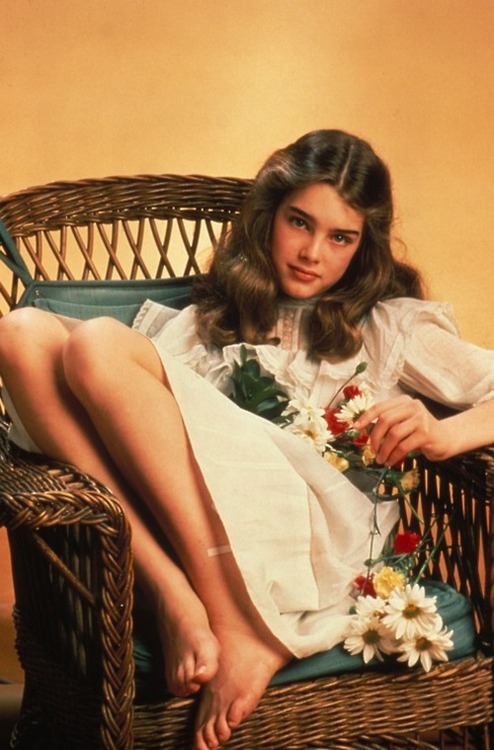 Most people wonder about young Brooke for her notorious advertising gigs, and for the film Blue Lagoon (NWS), but it's Pretty Baby which makes my head spin. That's why I've watched the movie several times. The are multiple layers of uneasiness and creep that I know I must work out for myself, so I continue to watch it. (This posting likely ensures a viewing sooner rather than later.)
In the film, a 12-year-old Brooke Shields plays Violet, the 12-year-old daughter of a prostitute working in Storyville, the red-light district of New Orleans, in 1917.  It would be an interesting and uncomfortable story by itself, but unlike a book, film requires more than your mind — characters are brought to life by actors. As noted in the post about Blue Lagoon (above), a lot of watching a film is about what we bring to it. I didn't see the film when it came out in 1978 (yet I often wonder what my 14-year-old self would have thought about it);  I was both an adult and a mom. And as a mom — who knows that Brooke is a mom — I can't help but wonder about the actress herself. What was it like to be a child and pretend such a role? When a kid plays in a horror movie, I have those thoughts too; but then kids know scary monsters under the bed. I'm no prude, and I don't think sex is worse than violence, but Pretty Baby is/was different. Its sophistication is what makes it a great film. But is such sophistication suitable for children — viewers or actors? …Was young Brooke aware that her position as a child actress was a lot like the role she played? How does Brooke the mother feel — would she allow, encourage, or discourage one of her children from playing such a role?
Brooke's written books, but her autobiography was written before she was a parent, and I doubt the postpartum depression book mentions any of this… I'd love to get my hands on a copy of her 1987 senior thesis, The Initiation: From Innocence to Experience: The Pre-Adolescent/Adolescent Journey in the Films of Louis Malle, Pretty Baby and Lacombe Lucien; but that too was ages ago. Has age and motherhood changed how she views these experiences?