For men who, unlike the Mad Men, didn't have their own private secretaries to humiliate and fondle, there was Ellen the Eye Opener:
Yes, sir! When there's a job to be done, a service to perform, or a need to be met, we're ready for action. And when it's time for a smile, we like to erase those frown lines with something on the light side, for all work and no play makes Jack a dull boy.

So… meet Ellen, the Eye Opener, a girl who'll appeal to your "mail" instincts… as she opens your mail, let her serve to remind you of us. Treat her nice… she's a swell gal.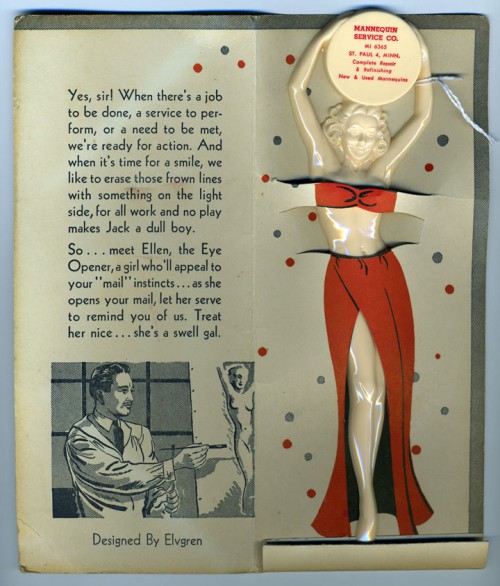 From the seller's description:
[A] Gil Elvgren designed plastic letter opener entitled "Here's an Eye Opener" produced by Brown & Bigelow between 1958-1960, including the original sleeve on card stock. This fun 3D letter opener, with a flat back,is done in "accurate" curvy detail, and is in very fine condition, as pictured, and measures 8.5″ x 2.5″ at it's widest point. The folding sleeve which creatively 'undresses' Ellen our pin-up model measures 8.5″ x 7.25 opened, is in excellent shape with no tears or visible toning.

The medallion she is holding above her head would have had the name of an individual business – in this case from "Mannequin Service Company – Saint Paul MN" – used as customer giveaways.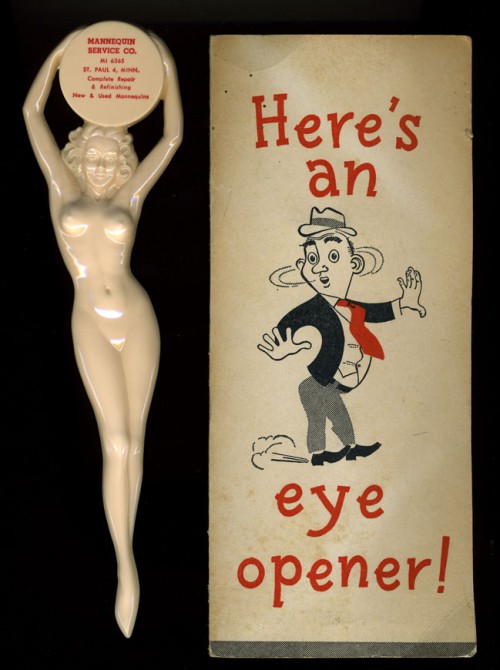 All images via Grapefruit Moon Gallery
.