I watched both of these on TCM a few weeks ago and was thrilled to find them available online. This Theatre and You was put out in 1948 by the Academy of Motion Pictures Arts and Sciences to educate about the importance of movie theatres in a community — your community. And 1953's The Case Against the 20% Federal Admissions Tax on Motion Picture Theatres provides a look at an industry which may seem like a dinosaur now, as we sit solo and absorb our individual digital media. But moving away from the shared experiences of film certainly explains a lot about the failings of old downtown centers and communities alike.
It's well worth the little over 30 minutes of your life to watch both of these.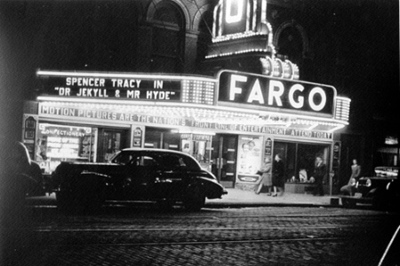 Image of the Fargo Theatre, 1941.