A vintage advertising blotter, likely from the 1930s — 1940s, which focuses on a male geriatric problem.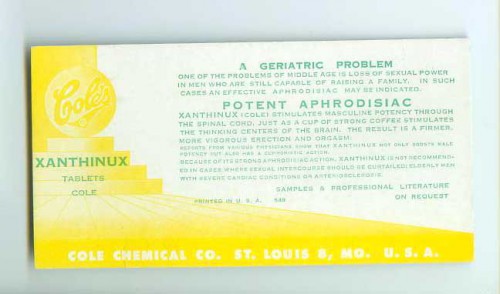 The blotter reads as follows — and it should be noted that the print gets smaller as it goes along (which is cruel in many ways for an aging male, I say):
A GERIATRIC PROBLEM

One of the problems of middle age is loss of sexual power in men who are still capable of raising a family. In such cases and effective aphrodisiac may be indicated.

POTENT APHRODISIAC

XANTHINUX (Cole) stimulates masculine potency through the spinal cord, just as a strong cup of coffee stimulates the thinking centers of the brain. The result is a firmer, more vigorous erection and orgasm.

Reports from various physicians show that XANTHINUX not only boosts male potency but also has a euphoric action.

Because of its strong aphrodisiac action, XANTHINUX is not recommended in cases where sexual intercourse should be curtailed; elderly men with severe cardiac conditions or arteriosclerosis.

Samples & Professional Literature on Request.
From the Cole Chemical Co., St. Louis 8, MO. U.S.A.  [Printed in U.S.A. (form) 549.]
Further research shows that Xanthinux was a combination of strychnine (yikes!), caffeine, and theophylline. Big shocker here: in 1963, medical reports on Xanthinux state that there's "no evidence that it acts as a sexual tonic."
Plus there's that whole strychnine-poison thing.
However, culturally speaking, I do find the reference to "men who are still capable of raising a family" a line that's absolutely missing in today's recreational & romantic messaging about ED. Which, naturally, speaks extra loudly in today's world of restricted women's rights.
See also this vintage pharmaceutical advertising blotter  for women.