I've been listing a lot on eBay, so be prepared for observations and odd thoughts on what I find — like this gem: a vintage medical advertising blotter
for triple-barbiturate capsules by Wyeth called Ethobral.
"for all patients who cannot sleep…"
"nearest to the ideal hypnotic…"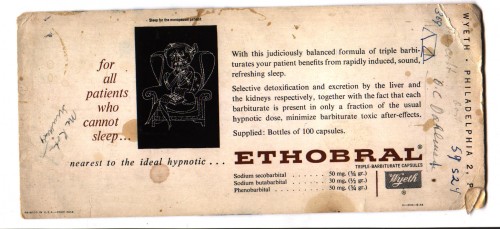 What strikes me most about this promotional piece is the sexist ageism. First, note that illustration: A little old lady, complete with her hair in the "granny bun," has what appears to be a box of open chocolates on her lap — and still she weeps.
Above that, in extra-fine print, "Sleep for the menopausal patient."
We've all heard about the misogyny in medicine; we've all heard about the medicating of women for all sorts of "mysterious ailments" that men just don't suffer from. And we all know about the giving away of barbiturates to women as if they were candy. But seeing this, seeing a "menopausal patient" — which can only be female — depicted as a crying grandmother trying to self-medicate, ineffectively and stupidly, with chocolate, as the only image on this advertising piece for medication "for all patients who cannot sleep" drives the point home like a railroad spike. To the chest.