Can't find enough reasons to hate your bra? You will soon: Microsoft is working on a smart bra to measure your mood:
The prototype contains removable sensors that monitor heart and skin activity to provide an indication of mood levels.

The aim was to find out if wearable technology could help prevent stress-related over-eating.

Mood data was provided to the wearer via a smartphone app in order to highlight when "emotional eating" was likely to occur.

A team from Microsoft's visualisation and interaction research group embedded an electrocardiogram and electro-dermal activities sensors as well as a gyroscope and accelerometer in the bra.

In their paper, the researchers say using a bra "was ideal because it allowed us to collect EKG [electrocardiogram] near the heart".
As if women don't hear enough messages about our moods, behaviors, and weight; we now must hear directly from our clothing. And not just when they tighten around us.
Once you spend the time necessary for the equipment to learn all about you and your emotional eating habits, find correlations between your heart and skin activity, and you take the time to participate in the food & mood logging, the premise is rather simple. The sensors, custom boards called GRASP for Genitic Remote Access Sensing Platform (That name was by design?!), will then transmit the mood data to a mobile phone application using Bluetooth — then the messages from the "EmoTree" will begin to "suggest interventions" — i.e. nag the crap out of you.
One such intervention is to remind you to relax by taking some deep breaths — instructing you to tap on the little bird on the screen with every slow breath you take. Sounds a lot like it's going to turn into Angry Birds, right? I can only imagine how stressed me would like to tap the hell out of some bird willing to tweet, however politely and privately, that Fatty-McFat-Face-me had better concentrate on her breathing & stay away from the fridge.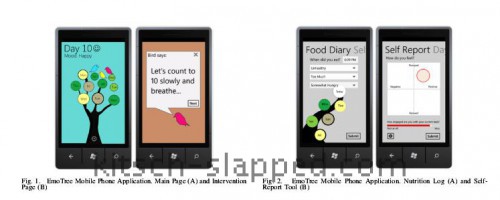 There are also plans for the bra & app combo to offer other "distracting interventions", whatever those are. What could be more distracting than your cell phone telling you to calm the hell down and not to eat? …Maybe it will play a humorous video clip or something nice. Or maybe it will be something more shaming. Like maybe it will it communicate with your friends and suggest they provide a personal intervention: "Jackie, your fat friend Deanna is stressed and heading for the ice cream again! Wouldn't it be nice if you called her and listened to her bitch about her mother for awhile?"
What obviously springs to mind with this whole thing is the butt-load, err, bra-load of potential uses and abuses. What about hacks? Will there be bras to assess and monitor our other moods? Like one to tell us about our sexual arousal — with an app to alert our partners, of course. Perhaps it will even be like those hook-up apps, telling any stranger who signs up (or hacks into the program) that a randy dame is nearby. "Your honor, she was asking for it — she was wearing that bra app!" Whatever info is collected, maybe the NSA will need that data dump too.
The researchers don't want us to think this whole idea is sexist. They noted that "efforts to create a similar piece of underwear for men worked less well, largely because the sensors were located too far away from the heart." Well, jeeze, scientists, don't fat men have those man-boobs? They surely could benefit from a bro, no? And don't men wear something else everyday — something above the waist, like, I don't know, a shirt?
Naw, that wouldn't make any sense; we must focus on how women look because that's what they are here for. And notice, there's no mention or suggestion regarding anorexia  or other health disorders. Fat — women's fat — is the health issue to focus on.
The good news here is that this mood-bra isn't ready for market just yet; users in the study found the device "tedious" as the GRASP boards had to be recharged every 3-4 hours.
Then again, that's about how long some of us can bear to wear our bras.
As for me, if I'm going to invest in any new tech bras, it might be the bra that can detect cancer. Let's see if that one actually makes it to market.