Home may be where your heart is, but a neighborhood is where you live. And it may be even more than that. It turns you, where you reside, the resulting lifestyle of your community, is further impacting the partisan divide in this country.
The United States Census Bureau stats indicate that US cities have been growing faster than the suburbs for the past few years. Something Leigh Gallagher writes about at great length in her book, The End of the Suburbs: Where the American Dream is Moving. In that book, Shyam Kannan, a former real estate consult who is now managing director of planning at the Washington Metropolitan Area Transit Authority (WMATA) said, "We are moving from location, location, location in terms of the most important factor to access, access, access." And that access clearly involves the ideals expressed in New Urbanism, a the planning movement which advocates creating communities based on traditional neighborhood design (TND) and transit-oriented development (TOD).
New Urbanism communities feature homes within easy walking-distance of public spaces surrounded by shops and offices which meet both community consumer and employment needs accessed by various transportation routes, including not only streets for cars, but public transit, pedestrian walkways, and bicycle paths. It's today's "green" living. Or simple vintage living, if you prefer.
I grew up in a place like this: Greendale, Wisconsin. And it was swell. Nearly idyllic, actually. As a result, I've long complained about McMansions, urban sprawl, and — perhaps most egregious — the placement of huge garages in the front of houses, relegating folks to their backyards, away from front porches and lawns — and away from their neighbors. Neighbors are, like the Sesame Street song said, the people in your neighborhood.
Knowing those people made communities safer. And, as a kid who could run up and down the block with the neighborhood kids, including playing games like kick the can at dusk (and even later!), it was a blast.
I could dissolve into nostalgia here…
But suffice it to say, I am a huge fan of such communities and New Urbanism.
Whether or not they all know it, many other Americans are in love, or falling in love, with New Urbanism too because they are not only moving away from the suburbs and into the cities, but into similar communities. In fact, as job sprawl and suburban crawl are slowing, companies are moving back to the cities too. It is one part downsizing response, but also following the best workers and going where they are. And what the companies are leaving behind are these huge corporate "white elephant" commercial spaces — which are slowly being turned into new-urbanist community spaces.
But, while workers are moving into the cities and such community spaces, the wealthy CEOs and company owners are not. They remain — and want to remain — in their far-removed suburban hide-outs, sequestered from the masses, hiding behind the giant multiple-car garages that at once announce their multiple-car wealth as well as shield their homes and selves from their neighbors.
This split is more than economical. Pew Research shows that this split is along partisan political lines as well.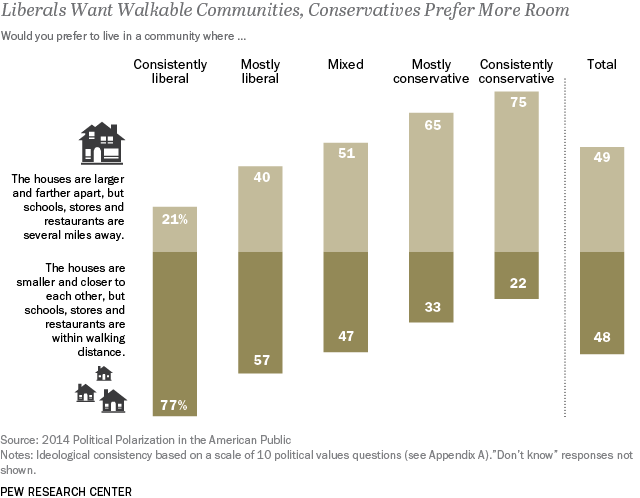 As Lisa Wade, PhD, states, this goes along way to explain the huge "Red & Blue" partisan divide in our culture:
I'm still surprised by the strength of these correlations. If the preferences hold true in real life, it means that there is significant partisan residential segregation. That would translate into fewer friendships between people on different sides of the political spectrum, fewer conversations that help them see the others' point of view, and more cross-group animosity.

In fact, that's exactly what we see: a strongly partisan population that doesn't talk to each other very much.