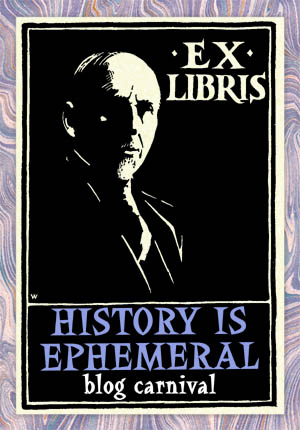 This is home for the History Is Ephemeral Carnival. A monthly carnival, presenting old paper (magazines, magazine articles, zines, receipts, postcards, greeting cards, booklets, photographs, posters, trade cards, advertisements, letters, id cards, ticket stubs, the list goes on & on & on) dating prior to 1990. (Exceptions made for newer but really obscure ephemera.)
Find old paper, pick it up… Then what? Research the poop pulp out of it!
Posts are not a simple pic & description, but must share the history & context of the item. What it is? Where did it come from? How did you get it? What roads did it lead you down? What did you learn about history? Aside from the fact that you (likely) are an obsessive fire hazard, what did you learn about yourself?
Answer as many of these questions as you can, and you'll have a good post — worthy of being read by nuts like me, and of being accepted into the carnival.
Additional Criteria:
1) You must publish a scan/photo of the old paper item. ("Seeing" is next to "holding" in goodness.)
2) You must credit whatever sources you do uncover in your research: book & publication titles, libraries & archives, blogs & websites etc., and, wherever possible, provide links to assist fellow obsessives.
For examples, check out past editions of the History Is Ephemeral Carnival.
The carnival is published monthly, on (or about) the 29th of each month. Submissions should be made by the 25th.
Submit your paper trail project post to the History Is Ephemeral Carnival here.
Additional carnival hosts are welcome!