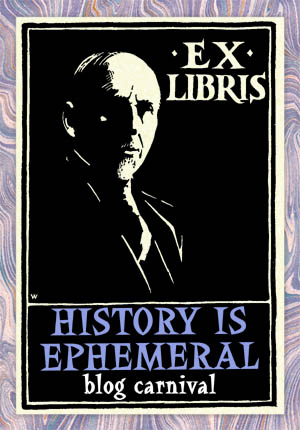 Welcome to edition number six of the History Is Ephemeral Carnival, where ephemera lovers share the history behind their obsessions.
(If you've got posts about old paper and other ephemera, please submit them for next month's carnival via the carnival's submission form!)
Because there are 13 links in this edition, this post is also a Thursday Thirteen!
#1 History Cellar shares a Boston Restaurant Dinner Menu from the 1860's over at The History Cellar. Can you afford the Potted Pigeon?
#2 Derek talks Irish Republic Bonds (from the 1860s – 1880s) at Collectors' Quest. Do you know what they have to do with one of the earliest attempts to build combat submarines and plans to take over Canada and hold it for ransom?
#3 Yours truly has one of her antique postcards displayed in a museum; the story is posted here at Kitsch Slapped. (It's so thrilling!)
#4 Jianfeng presents images which remind him of his grandfather in China's Civil War in The Big Retreat in 1949 and My Grandfather posted at Jianfeng's Blog. I think it shows how the details of individual stories somehow make things universal.
#5 Collin talks about The Brush Project at Collectors' Quest. I never thought about it before, but artist brushes certainly are ephemeral.
#6 Yours truly interviews Troy Pedersen, owner of a real world vintage magazine store — in my neighborhood! Aren't you jealous!
#7 Cliff, with the help of John Gingles of JG Collectibles, gives us A Peek at a Rare Harry Houdini Signed Photograph at Vintage Meld. Included is a tip on how to preserve and display such unique items.
#8 Frank reflects on This is Ephemera: Collecting Printed Throwaways, by Maurice Rickard at his blog, Antiquarian Holographica. Find out why Frank recommends the book and appreciates it for what others might call its short-comings.
#9 Val Ubell dishes about Silent Star Lucille Ricksen from an article in a 1925 issue of Jim Jam Jems over at Collectors' Quest. I collect Jim Jam Jems myself, but don't yet have that issue — so now I'm even more hot on the issue's trail.
#10 Yours truly will be a presenter at the first Bookmark Collectors Virtual Convention. More details to follow at the official convention's website; subscribe for updates!
#11 History Cellar shows us the Record of football deaths and injuries in 1900 at The History Cellar. Are things better or worse in the sport now?
#12 Yours truly finds out that her laminated in-flight instruction card for TWA's Convair 880 jet holds a place in aviation disaster history, at Collectors' Quest. Maybe you have items to help with the memorial?
#13 And if you're not too sick of me &/or ephemera already, I've been interviewed on The Ephemera Show! Check out the podcast here.
While you're here, let me also remind you that today's the final day to submit for this month's New Vintage Reviews Carnival — and, I'm hosting the next Book Review Blog Carnival. Please submit your posts!