The Men's Right Movement (MRM) may have begun in support of women and feminism, but it's gone to hell.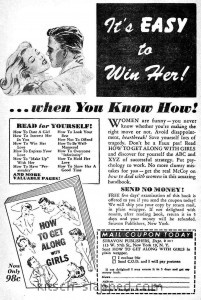 There's always been an element of "I want to be a playboy" in the world of modern Western men. From the somewhat harmless fantasies of bachelors who want to play with sex kittens in what they imagined "the good old days to be like", to the sincere and earnest pleas of men who feel they are less desired than so-called traditional masculine males, they (and a number of women) have created decades of openly making money off the "how to get girls" marketplace. You can make an argument that this sort of thing gives women the upper hand. That even men in "the game" (often referred to as Game with a capital 'G') are at the mercy of women. Certainly, many Third Wave Feminists would agree. And, frankly, many of us struggle with where to draw the line between what is harmless and funny and what is perpetuating negative stereotypes and outright misogyny.
But now, too much of the behavior from the MRM removes any notion of this being a fun "game." It has crossed that line and angrily morphed into a hardcore hatred of women. Even if it seems hidden behind benign men's help sites.
Typified by phrases about "reclaiming their balls", as if the fact that women are equals somehow feminizes men, and given the supposedly harmless name of "The Manosphere", it has grown on the Internet, connecting like-minded males and converting others. Dagonet of The Quest For 50 explains:
The history of the Manosphere is nebulous.

…Like an echo, a shadow, a vague thought that has reverberated louder and louder with time. You can trace its DNA through the works of ancient poets and philosophers– great men throughout history who identified truths of human nature– through to the modern era. For millennia, these truths were regarded as common sense, and they were integrated functionally into the way society was organized, and the social standards of each population. But with the cultural revolution beginning in the 1960s and reaching a tipping point in the 1990s, a need arose for men to more explicitly teach each other these lost truths. The Manosphere might have begun with Tony's Lay Guide, The Mystery Method, or other forums hidden in the dark crevices of the nascent internet of the 1990s (such as alt.seduction). It might have begun with The Futurist's essay "The Misandry Bubble." It might have begun with Roosh (f/k/a DC Bachelor), Matt Forney (f/k/a Ferdinand Bardamu), and Heartiste (f/k/a Roissy) coalescing around a shared worldview at the crossroads of sex, politics, and a restless sense of lost masculinity, awaiting a revolution.

As more voices began to join the swelling chorus of disenfranchised, horny, clueless men looking to reclaim their balls and dignity, the "Manosphere" as we currently know it was born.
Lest you believe this sounds harmless enough, Dagonet goes on to complain about how so many in the Manosphere have been "'outed' and had to delete their blogs in hopes of preserving their privacy and maybe keeping their job/relationship/reputation." How innocent could these poor victims have been?
And Dagonet's the guy who claims to be part of Red Pill Thinking yet he feels that the #YesAllWomen response to an all too typical tragedy is not part of reality but rather is an "absolute shitstorm of idiocy, misinformation, and narcissism."
His collaboration with The Real Christian McQueen should relegate that site to "questionable" at best.
Then you've got guys like Jeff Allen, an "Executive Coach" with Real Social Dynamics Nation, a site the exists to sell a boatload of "how to be attractive to women" books, products, and seminars. Again, this might seem innocuous, maybe even helpful; but take a look at Allen's Twitter account and you'll be enlightened. These are some of his stellar tweets:
https://twitter.com/JeffreyLAllenIX/status/405912801706651649
https://twitter.com/JeffreyLAllenIX/status/397525867116519424
https://twitter.com/JeffreyLAllenIX/status/369307985798914048
https://twitter.com/JeffreyLAllenIX/status/357347770274811905
https://twitter.com/JeffreyLAllenIX/status/348926892340023296
All this, & we didn't even get into the series of nauseating legislation proposals or anything.
Manosphere diminishing? You'll get no tears from me.
(Some screen caps in case the tweets disappear.)