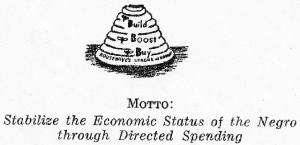 "Think Global, Act Local" is more than an old saying or mantra; it's a philosophy. Thinking globally while acting locally is a way to take huge problems, like racism (as the image shows), and break them down into manageable, individual, acts. It motivates anyone who believes "If you're not part of the solution, you're part of the problem."
I was reminded of this when Nazneen Hamilton wrote about the importance of buying locally produced items. It's not only a wise thing to help your local economy — and generally helps your own household finances (something you know I care about) — but it also has a huge impact on the environment.
Heck, buying locally grown food and/or locally made products is a far greener thing to do than getting a newer less-gasoline-guzzling car or even getting one of those hybrid or electric cars — because the cars and batteries are brought over the oceans on freighters, freighters which leave far larger carbon footprints (or wakes) than most of us can imagine.
So I have to ask you, when's the last time you checked the labels to see if you could buy local?
And, if you do and find your favorite shop doesn't offer a local alternative, have you pushed them to do so?