I found this photo of a National Housewives League meeting Detroit, Michigan, in 1945 while researching the Organized Housewives, a completely unrelated group.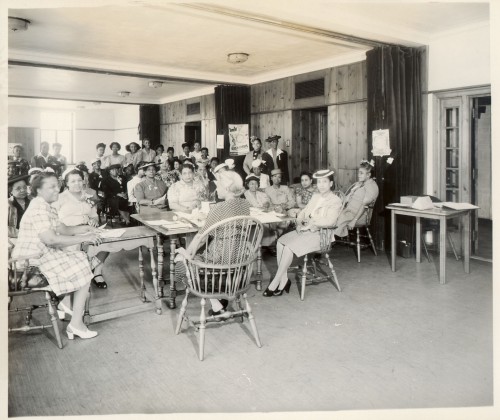 The National Housewives' League of America was founded in the early part of the twentieth century to advance the economic status of African Americans. Its mission was to encourage African American housewives to patronize African American-owned businesses through "directed spending."
The Rev. William H. Peck and his wife Fannie B. Peck, after hearing Alben L. Holsey of the National Negro Business League and Tuskegee Institute speak about the successes of the Colored Merchants Association and the New York Housewives' Association, were inspired to create similar organizations in Detroit. Rev. Peck organized the Booker T. Washington Trade Association in April 1930. Mrs. Peck, believing that the support of those women who controlled most household budgets — housewives — was essential to any business success, founded the Housewives' League of Detroit on June 10, 1930, with 50 members. In the next couple of years, Mrs. Peck went on to organize leagues in Cleveland, Cincinnati, and Toledo, Ohio; Indianapolis, Ind.; Pittsburgh, Pa.; Kansas City, Mo.; and Jacksonville, Fla. By 1932, Alben Holsey, impressed with the response of the women in the leagues, invited Mrs. Peck and the other league representatives to meet in New York City to form a national committee, which Mrs. Peck chaired. The following year, the national committee met in Durham, N.C., in concert with the National Negro Business League, and formally organized the National Housewives' League of America, Inc. Mrs. Peck was elected the first president of the organization.
I find this notion of housewives, and the purchase power of women in general, quite incredible… Normally we only hear of the economic power of those who control most household budgets in terms of boycotts, not as positive actions and long term change-making acts too.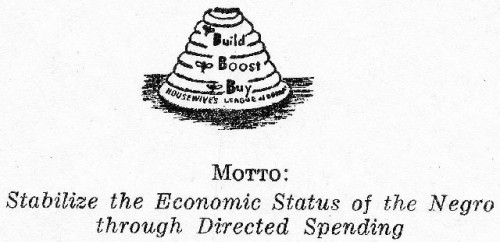 Some related facts on the economic powers of women, which I heartily suggest you use to best impact social and economic change along with your household budget:
From 2005 Wow! Quick Facts Book, published by United States Census Bureau:
* Women control 80 percent of household spending
* They make up 47 percent of investors
* Women buy 81 percent of all products and services
* They buy 75 percent of all over-the-counter medications
* They make 81 percent of all retail purchases
* Women buy 82 percent of all groceries
* Women sign 80 percent of all checks written in the United States
* They make up 40 percent of all business travelers
* They make 51 percent of all travel and consumer electronics purchases
* Women influence 85 percent of all automobile purchases
* They head up 40 percent of all U.S. households with incomes over $600,000
* They own 66 percent of all home-based businesses
* Women have been the majority of voters in the United States since 1964
For more information on the history of the Housewives League, see Housewives League of Detroit (HLD) and the records at Bentley Historical Library at the University of Michigan (where the images are from).