This week's Monday Movie Meme topic is "fear." I don't particularly enjoy being scared; life is scary & fragile enough, thanks. Nor do I find any entertainment value in repeated bodily harm & numerous deaths — no many how many forms the gore takes. So I obviously do not watch many horror or slasher films. But I have managed to see some though — like I was there (with my mom) to see the original Halloween (1978) and I think I saw at least one more part in the classic horror series… Mom needn't worry that I'd be up late with nightmares because, gross as the films were, they were rather forgettable to me.
But then I saw Prophecy (1979). Nothing, I mean nothing, had scared me as profoundly as that film.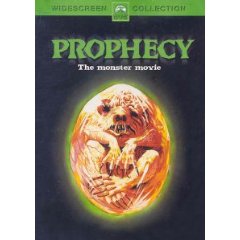 Prophecy is about a burned-out inner city doctor (Rob, played by Robert Foxworth) who is given the chance to escape to the country (Maine wilderness) for some meaningful (70's hot issue) environmental science by investigating a dispute between a paper mill and the local Main Indians. He takes along his classically trained musician wife (Maggie, played by Talia Shire) — because there's an important personal (and another political 70's) sub-plot involving the couple: the embittered doc doesn't want to bring another life into this horrible world, and she's not only knocked-up, but isn't so keen on (what I recall to be) another abortion.
When they arrive in Maine, it's pulped into your head that a crisis is at hand at the paper mill. It's the environment vs. progress, land vs. capitalism, with the lumberjacks on one side and the Indians on the other. In fabulous retro kitsch film style, Armand Assante plays the young Native American activist, angrily defending the old world traditions with modern gangsta style; gotta love the irony of a film trying to make points about the wisdom of native cultures using an Irish-Italian actor to play a Native American.
The idealogical & political war has been going on for quite some time now, but things are coming to a head. People are missing and the lumberjacks are certain it's the Indians who, upset that the paper mill is damaging the land, have taken or harmed the people in the name of politics. But something else is going on… Something just below the surface… And we are shown that literally when a duck, floating atop the water, is gulped as dinner by a fish below…
Long creepy story short, the menace is a native alright; but it's not exactly human.
The Indian legend has it that the creature is Kataden, there to save them, their land, their way of life — but really, it's a bear that, due to the paper mill's dirty pool (poisoning the water pools) has mutated into some sort of hideous & huge bear-pig.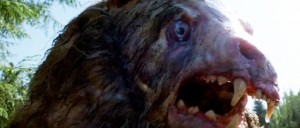 As I too vividly recall, the Native American lore says that the legendary Kataden is a being which embodies "every other living creature" — something scientifically paralleled in a Darwinian theory of fetal development when Kataden's drowned cubs are found by the doctor who supposes these babies are the results of the paper mill's mercury poisoning. This made everything all the more "plausible" & frightening to my then 15 year old mind.
Like most horror films, the cast of characters is slow to catch on to the real problem, giving way to lots of violence — violence which serves to bloodily & bodily illustrate all the issues at hand.
Along with the paper mill vs. Indian clash, you have the clash of ways and beliefs between the younger Indians & the older Indians, the corrupt and ignorant/innocent paper mill persons, and the "exploration" of modern life via the personal issues of a modern couple. She's emotional & artsy (feminine) and he's all hard(ened) science (masculine), which echoes the other film's value laden battle themes (nature vs.money, faith vs. pragmatics, traditions vs. modernization, the gift of life vs. quality of life).
The dangers of each are literally & graphically presented in such scenes as one of Kataden's babies trying to suckle from Maggie's nipple, the attack on innocence represented as a child in a sleeping bag, and the elderly Indian leader meeting his maker as he smilingly goes to meet his savior, Kataden.
And then there's the matter of her pregnancy… Will the doc bring a child into this world? Does he have a choice? How much does he resent her — enough to not save her as his masculine protective duties dictate? Has she eaten too much of the mercury poisoned fish? Will the monster bites she's suffered be a problem? Dogs & cats Bear-pigs & men living together; mass hysteria.
At the end of the film, life is affirmed: nature & femininity wins, overcoming corporate masculine greed with a show of traditional human survival instincts rooted in love. But at the end another creepy creature is seen, suggesting a sequel…
Did we learn the right things? Will the thing grow up, then rise up to teach us something new? Only it's 1979; the 80's are on the horizon, our backs are turned on the lessons learned, and no sequel has yet to come.
But I'm unable to forget it all — or the images in my head.
Yes, Prophecy is blunt heavy film — heavy on the cliches, ham-handed in using horror to punching them like a fist to your face to make the point — but it was also effective in scaring the crap out of me & placing issues heavily in my heart.
I'm not sure if "adult me" would be so moved. I did catch parts of it on late night television one night, but I wasn't prepared to sit & give it it's proper attention (it was on while I worked to meet a deadline) and it was so edited for content that I felt ripped-off. But I'd really like to see it again and see if it holds any of that old (black & terrifying) magic. It must hold something if I retain it so vividly 30 years later.
Click the pic & watch a clip!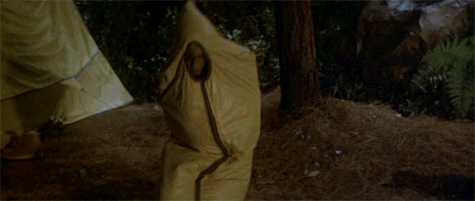 For info, images, quotes, opinions, etc. on this film see BadMovies.org & Kindertrauma.