This week's Weekly Geek is "Tools Of The Trade":
Book blogging, as a concept, is essentially pretty simple: If you have Internet access and an opinion about a book, you can be a book blogger. However, actually maintaining a book blog is much more complicated — our blogs are labors of love that require a lot of time, energy and devotion. For this edition of Weekly Geeks, I want to focus on the little things that make your blogging and/or reading life a bit easier. …Tell us about what makes your blog tick. Is there something specific that keeps you organized or inspired?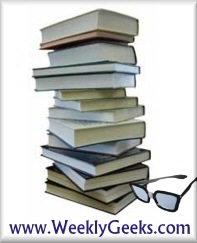 However the answers they seek — at least from me — are far less about physical or digital assistance; I need mental help *wink*
On one hand, my deviation here might stem from the fact that I do not describe myself as a "book blogger." As a reader, bibliophile, accumulator, collector, researcher, I have many reasons to read books; as a person suffering from logorrhea, I naturally talk about what I read — and how what I read fits into or connects with my life, collections, work, other reading, etc. Anywhere I write/blog, no matter the subject, books and other publications pop into the conversations, even though I've never been dubbed "the book blogger" or had my column called "about books."
On the other hand, it seems I'm always slightly tilting meme questions… So here goes more of the same.
Remaining organized and inspired as a reader who writes about books involves, for me, the very same challenges as it did before I was stuffing the tubes of the internet with words about books.
My organization, of which I admit a general lack of, still depends upon the traditional use of stacks. Not only the stacks of "to be read" books, which I think all readers have to some degree of toppling nature; but stacks of "to be blogged about." I keep at least two stacks which assist my blogging progress.
One right at my desk, so that I cannot over look them (try as I might) because they will soon slide onto my keyboard.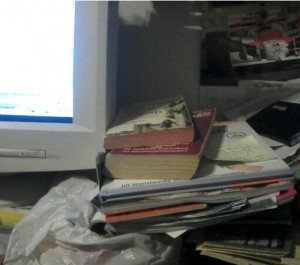 Another, primarily library books so that they do not get lost in the milieu, usual sits near the sofa for reading; their very public placement is a reminder to read (and, typically required, renew) them before I accrue fines. (When it's time to review a few, the whole stack is then moved to sit precariously atop of my pc's case.)
Remaining inspired is not typically a problem; I am the sort of person who easily becomes obsessed — with the reading of, talking about, and further researching about what I've read. But what I and my blogging suffer from are what I call inertia issues…
Bouts of reading do not wish to be interrupted by reviewing; bouts of reviewing do not like to be hampered by not having read anything new; bouts of research/reading in one area ignores others. These things, of which time and personality are both critical factors, can make for series of posts that skew my blogging heavily. Which is to say that new visitors to my blog who happen by during a period in which I'm heavily into one activity or interest — and by virtue of not sharing that interest — may leave quickly, not seeing their more shared interests lay, like layers of an onion, deeper within.
I do try to remember these possibilities and address them.
Using blog carnivals (such as — shameless plugs — the Book Reviews Blog carnival which I'm hosting on the 25th and the New Vintage Reviews carnival, which includes books, that I host monthly), helps remind me. Submission due dates are reminders that post must be written.
But primarily I keep an eye on my stacks. And they on me. The growth of all of my stacks — through their tumbling acts — nags. This creates a balance at the blog which does really exist within myself or my habits.
As my "to be reviewed" stack slips precariously towards my keystroking fingers, I try to avoid being annoyed at the disruption and take it as a cue that I'm more than a little behind in my reviewing. As the family sighs at having to operate around my stack of library books, I try not to let that upset the reader in me who wishes for more time to read, but acknowledge that, yes, I am a more than a little behind in my reading.
I'm always a little behind in my reading.