I know that you're thinking I'm an insensitive bitch for saying "Relationship Autism" — but I have members of my family & friends on the Autism Spectrum (as well as others with similar challenges) and so I know what the hell (and what hell) I am talking about.
I know, I know, I know, that me mocking relationship advice &/or those who need it seems pretty freakin' hypocrytical — but dude, there's a difference between honestly trying to help people and doing what Cosmo does. And just what is it that Cosmo does? Oh, thanks for asking — because I'm dying to tell you.
Cosmo tells us things we all should know — like if he strokes your thigh, "sexy one-on-one time" is on his mind. (February 2009 issue.)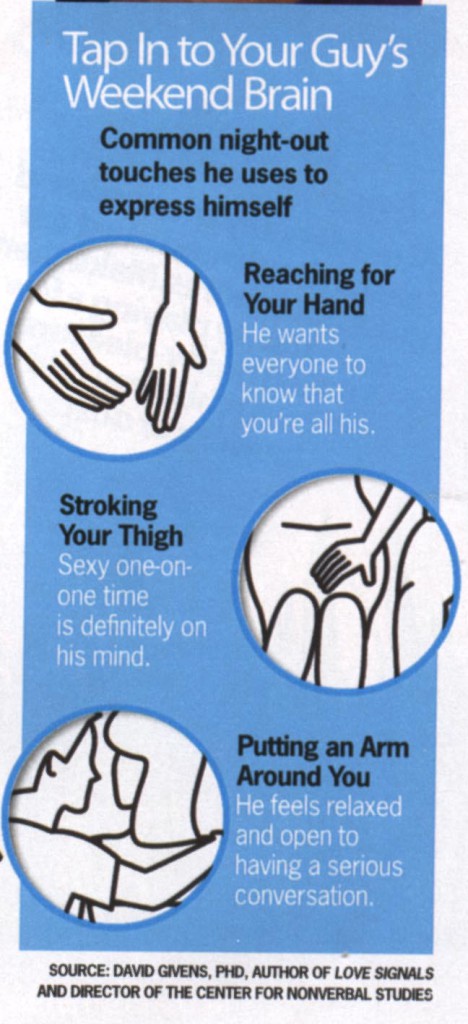 A-doy.
Something we all know — unless, of course, you seriously are on the Autism Spectrum or otherwise have a note from your doctor regarding an emotional &/or cognitive deficit. (But if you or someone you know does have such issues, they should not — repeat, NOT — be reading Cosmopolitan magazine. In fact, I don't know just who should be reading Cosmo…  There's danger in that-there publication.)
But just in case we aren't grasping this subtlety of human behavior or have some memory problems, Cosmo wants us to know that he likes it if we grab his thigh too. (March 2009 issue)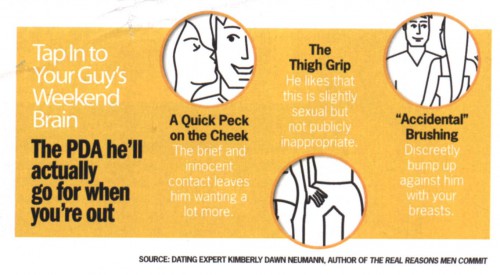 This sort of turn-about is about as close to liberated as issues of Cosmo get.
(And no, I am not done with pointing out Cosmo's flaws — until they clean-up their act, I'll keep up my activities alerting you to their irrelevance.)