I finally was able to get in to take that questionnaire regarding Friday night's Science of Seduction show (the show must have been popular because I had a heck of a time logging in and getting the question pages to load — most frustrating).
First of all, I should say that like many such quizzes, I was frustrated by the all or nothing options for reply; why can't they offer that middle road option of "neither A or B" or "I don't feel strongly about any option". And the language/phrasing is sort of ridiculous — "I laugh with my partner 'Always'"?! Even when he's sad? I don't think that's a real option. Fully aware that these absolutes, no matter how silly &/or frustrating, allow for easier computations, I proceeded. But I just had to vent (and perhaps warn those of you who feel likewise about such things).
Now onwards, to the results…
While watching the show, my first instincts were that I would be a Director — or at least have strong enough Director tendencies to warrant them appearing in my results. But maybe that was Old Me; I've surely changed over the years. (Which too brings up the subject that we do change, and so what does that say about biology? It must be more fluid than fixed, right?) Anyway, I did not receive any Director notes in my findings.
Instead I'm an Explorer with a side dish of Negotiator.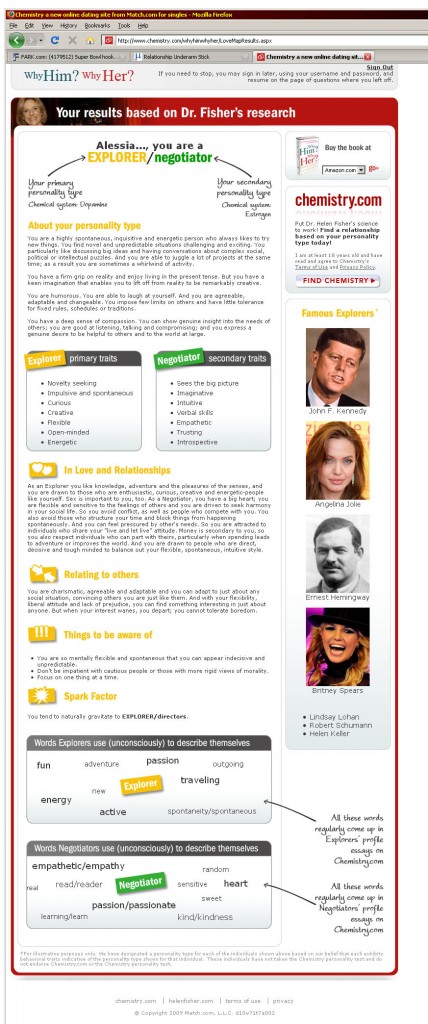 OK, so I totally can see myself as a combination between Angelina Jolie and Bill Clinton. And I'm guessing both of them figured they'd have some Director results too.
Since I'm not dating, but happily married, the only way I could really attempt to evaluate this scientific belief system was to get the husband involved. So I make him take the test when he returned home from work.
The husband was deemed Primarily a Builder, with secondary Director traits. Because he is even more jaded about such personality tests than I am (and had not seen the show, so he thought we were suppose to match in our findings), his response to hearing my results was to jokingly say, "So we're going to divorce?"
I told him then that Builders are to fit with other Builders, Explorers with other Explorers, and that Directors and Negotiators are to fit together well. His reply was the sardonic, "So we'll only get a quarter of a divorce then." I'm not sure that math is right (I'm thinking it's half non-matching); but at least his reaction was similar to mine: We are not doomed no matter what these quiz things say.
In reflecting upon our likelihood of relationship success based upon biological anthropologist Helen Fisher's theory, I'm not exactly convinced.
Not only do I remain skeptical about the findings (I still feel I am a Director of sorts; and the husband's Director status leaves me puzzled, frankly), but I don't think the theory is any more sound than astrology — or Myers-Briggs. Maybe that's a part of my non-conformist Explorer self.
But should the science be more accurate than my faith in it, I do think there are things to learn here.
For example, the husband is far more traditional that I; it's something that rears it's argumentative head from time to time when we approach problems and plan activities. And maybe that Director thing — even my thinking I am one — is part of our troubles in final decisions; I sometimes do feel that my solution is less accepted because I'm more intuitive, even in my logic (I don't have flip charts to present to him). So I can see where a couple could use this information to negotiate problems.  Such information could prove useful when navigating problems — if you can use the science to remove the "personally" from "personality" and thereby feel less judged.  Then maybe you can relax in the knowledge that your partner's traits are their traits; not a sign that you're wrong.
Of course you'll still have to deal with your differences.
For those dating, knowing more about yourself and the kind of persons more likely to suit your type can help spare you some heartache.