By drugging her, I guess. At least that's the impression I get from this vintage ad for Jayne's Tonic Pills found inside the 1941 Jayne's Almanac,published by Dr. D. Jayne & Son, Inc., Philadelphia, PA. (Yup, the image gets big enough to read if you click it. So click it and follow along with the class.)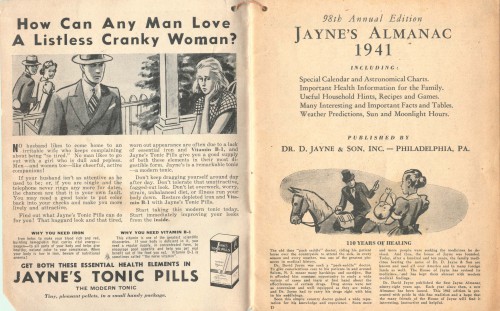 Well, I guess it is just pushing iron and B-1… But still, check this out:
If your husband isn't as attentive as he use to be; or, if you are single and the telephone never rings any more for dates, the chances are it is your own fault.
Wow. It couldn't possibly be that hubby's a jerk, having an affair, or secretly hiding the fact that he's gay (maybe all three?) It couldn't be that the guy in 2A who waits for you at the mailbox every day has cut your phone line. Nope. It's you, babe.
Whatever men do — or don't do — it's your freakin' fault. So even when you're continually complaining about being so tired, don't check all the facts or see a doctor — take the tonic. And like it.
Oooh, tiny, pleasant pellets, in a small handy package… Wait! Isn't that how I got into this marriage in the first place…?
And when the iron binds your intestines tighter than a Chinese foot in a lotus-shaping shoe, just as effectively forcing you to hobble about, I'm sure Jayne will have another tonic for that.
But only take it if your hubby is unhappy with your hobbing about &/or constipation. Because if it ain't bothering him, it just doesn't matter.