Continuing my look at Maxim's 2009 Sex Survey…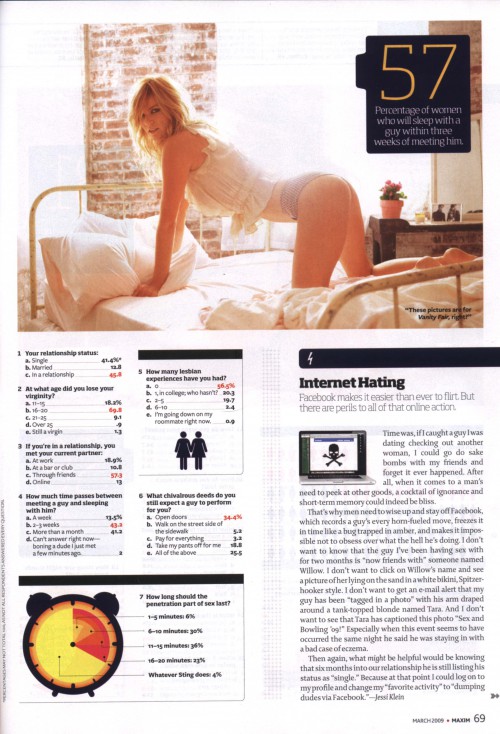 An interesting point to note is that of the 45.8% of women who claim to be in a relationship at the time of this survey, 57.3% of them met their current partner via friends. That's greater than all the other options (18.9% at work, 10.8% at bar or club, 13% online *) combined.
Granted, that list isn't every possible way for singles to meet, but I think the heavy dip towards introduction by friends proves my point that meeting people through people you know (aka having friends and a social life) works. And that the fact that your friends know & approve of these guys makes dating more likely to turn into relationships; this pre-screening makes these matches more acceptable to your support network and that increases your success as a couple.
This is not to say that there is no other way, but the old traditional methods still apply to dating today.
Meeting through friends means those in the group will have a greater number of things in common. Not just social activities and interests either. Compatibility has as much to do with similar religious, economic, social or class backgrounds, and other cultural issues (the roots of "values," if you will), which means that your "at home" feeling with one another is more than just the bond of the familiarity of the faces in your social circle.
So hook up through your friends already.
* Click the scan to read the bit titled, Internet Hating; it's as much a warning as it is a hoot to read. (Unlike my nemesis publication, Cosmo, Maxim's humor is spot-on, not kitsch.)