Most would say it's not fair to review a movie you haven't seen — and normally I'd agree. It's an ethics thing. But sometimes you hear about a movie (based on the opinions of those who have seen the film), and you just have to say something…
This is especially true when the movie is based on a true story.
In this case, the film is based on a crime — but the real crime here is not (just) that the makers of the film have sensationalized and exploited a murder, but have missed the very points which make the story moving and important.
The film is The Pyjama Girl Case (1977), and it's based on the real life story of the unidentified charred remains of a woman discovered in Australia in 1934.
Let's begin with the reviews…
Stanley Runk "Runkdapunk" says:
On the books this film is a giallo, but it is only in the most basic sense. Yeah it's a murder mystery, it deals with sexual themes and it's Italian. That's where all comparissons end though. No rampaging killer with gloves and a hat/hood and no real body count to speak of other than the Pyjama girl herself. Sure there are a few more deaths, but not until the end of the film.
J. B. Hoyos says:
"The Pyjama Girl Case" disappointed me for several reasons. First, and foremost, it is not a true Italian giallo. Absent is the typical black-gloved serial killer. Only two people are murdered. Second, this movie doesn't contain any major shocks or plot twists. The plot is very linear. Third, there is only one attractive woman and that is actress Dalila Di Lazzaro who later went on to act in Dario Argento's superb "Phenomena," which is definitely an Italian giallo.
(Oh, and "Runkdapunk" also says that Dalila Di Lazzaro is "yummy except for the armpit hair" — just in case you wanted to know.)
And those are the people who gave it three stars at Amazon; there are worse reviews with less stars.
Now I don't know what a "giallo" is, let alone an Italian one, but that's neither here nor there because I'm not going to judge this film by whatever standards either may have. And I'm not going to even discuss if a movie can have enough killing (I'm totally one girl who doesn't go in for body-count flicks). But I do have a lot to say.
Again, this movie is based on a true story. The real-life "Pyjama Girl" was a brutally murdered unknown woman, whose battered and partially burnt body was found dumped roadside in Albury, New South Wales on September 1, 1934. Normally I find the phrase "brutally murdered" to be redundant or excessive — nearly an expletive to induce horror — but the details, according to Australian Screen, make it pretty clear that one can easily use the extra word:
The victim's head was wrapped in a bloody towel and her body was pushed headfirst into a hessian bag. The body had then been set alight. A post-mortem revealed that she had been shot below the right eye, but the cause of death was probably eight blows to her face.
"Brutal murder" no longer seems to be just for shock-value, does it?
Anyway, as her identity was not known, the woman was dubbed the "Pyjama Girl" because she was found wearing pieces of pyjama fabric.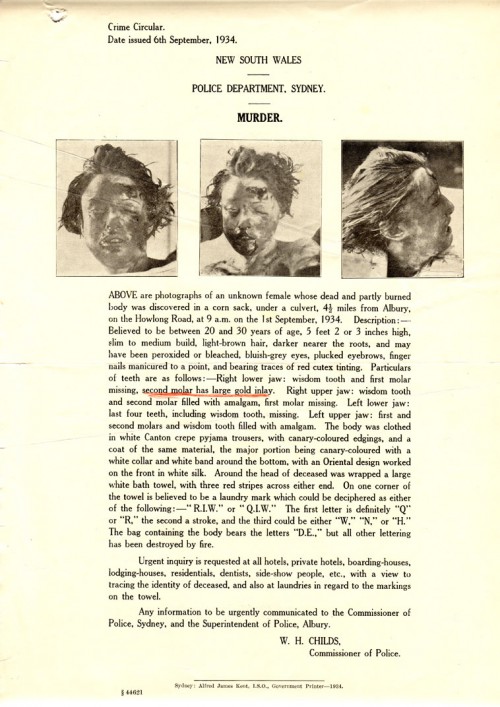 After coroner's inquest failed to establish the identity of the woman, artists' sketches and a forensic facial reconstruction were created to represent what the victim may have looked like, with the images shown around the world, in hopes that someone would identify her.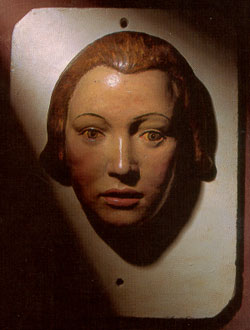 And her body was preserved in order to be put on display and shown to hundreds of people. Yes, hundreds of people paraded past her post-mortem. For ten years.
Her death was naturally shocking, but her death became a mystery which fascinated the nation and, for some, became an obsession. To the extent that in 1939 an entertainment "newsreel" was made to be shown in cinemas before feature films (and, in some cases, was, like other newsreels, shown continuously).
Again, a quote from the Australian Screen (where you can catch clips):
The Pyjama Girl Murder Case newsreel, produced in 1939 after the coronial inquest, is considered to be Australia's first true crime film. Filmmakers Rupert Kathner and Alma Brooks defied a ban by the New South Wales Police Commissioner, William MacKay, on newsreel coverage of the case and even tried to break into Sydney University to film the body. The use of adverbs such as 'stealthily' and emotive phrases such as 'fiend in human form', as well as the re-creations of various episodes of the case, indicate the ways in which the filmmakers sought to sensationalise the case.
In 1944, ten years after her body was found, a man was convicted not of her murder, but of manslaughter. Rat-bastard Antonio Agostini confessed to the police commissioner that he had "accidentally shot" his wife, Linda Agostini, "during an argument."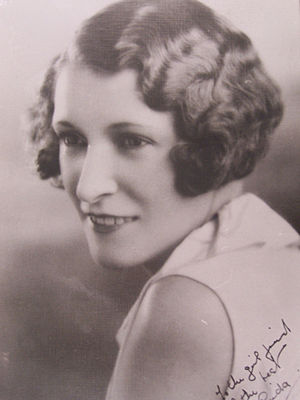 Just how unlikely it is that Linda was Pyjama Girl (Linda Agostini had brown eyes; Pyjama Girl's eyes were blue), is as astonishing as a husband who confesses to murdering his wife but only gets 6 years — and serves less then 3. And this is stuff that Richard Evans tells in his book, The Pyjama Girl Mystery (also available via Amazon).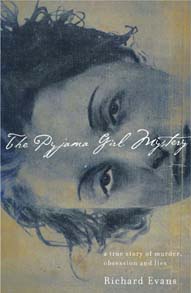 But what we end up with now, are two dead women — both of which were likely killed by men they knew. (The odds say it's true; and who else has access to a woman in her pajamas?)
Author Evans' investigation into this case is far more fascinating than the story told in that 1977 movie — but that's not even my main (or only) point.
Apparently in 2004, Australia's ABC's Rewind program ran a story on the Pyjama Girl mystery and, along with an extremely interesting interview with Evans, they presented this fascinating bit of cultural commentary:
MICHAEL CATHCART: In the 1930s, pyjamas were exotic, the sort of thing worn by young flappers. These so-called 'new women' dressed in skimpy clothes, they smoked, they drank, they partied and they laughed at convention. The straitlaced moral guardians of the day held up the Pyjama Girl as an example, a warning of what happens to young women who go astray.

CALEB WILLIAMS, CURATOR, JUSTICE AND POLICE MUSEUM: It was a wonderful trope for the newsmen of the day to play with. The idea of, you know, this wonderful, gorgeous, sexy woman abandoned bashed in a ditch in a pair of exotic silk pyjamas – it was sort of media heaven, basically.
In case you missed it, let me highlight the most offensive part here: The straitlaced moral guardians of the day held the Pyjama Girl up as a warning of what happens to young women who go astray. Why did they think the young woman had "gone astray"? Because she wore pajamas.
Pajamas.
Pajamas were, at the time, the "exotic" sort of thing worn by young flappers. And flappers were amoral women. Women who, apparently, deserve to be beaten, shot, burned and left dead in a ditch.
That's a whole lot of conclusion jumping and victim blaming.
Just like the crap said about Linda Agostini.
Wikipedia (a site I trust about as much as I do the investigation into the Pyjama Girl case), says that Linda was a "penniless glamour girl" who "worked at a picture theatre in the city and lived in a boarding house on Darlinghurst Road in Kings Cross where all accounts tell she 'entertained' more than her fair share of young, attractive men. Platt was a heavy drinker and a flighty Jazz Age party-goer who had difficulty adjusting to stability." Lovely. Who writes and edits at Wiki? Tony Agostini's family?
Wiki does not reference those particular sentiments (for they sure aren't facts), but none of the sites referenced says such things. One of the sites referenced, Australian Dictionary of Biography, says the following:
Tony and Linda were a popular couple. He was 5 ft 7 ins (170 cm) tall, trim and dark haired; she was only five feet (153 cm) tall, attractive and well liked. Yet, according to Tony, their relationship was not an easy one.

Linda sometimes left him for long periods and drank too much which shamed him within the Italian community. In 1933 the couple moved to Carlton, Melbourne, where he worked on the newspaper, Il Giornale Italiano, and she took a job at Ferrari's hairdressing salon in the Manchester Unity Building. Agostini later claimed that there were frequent altercations. During one quarrel in bed, Linda was fatally shot with a pistol which Tony alleged she had held.
"They were well liked," but… Tony says "their relationship was not an easy one," Tony says there were "frequent altercations," Tony says they argued in bed and she had a pistol. *snort*
Tony says it was an accident — but the bitch had it coming.
Who is here to speak for Linda? (And couldn't I argue that with an ass-hat like Tony for a husband, I'd take off and drink too. Only I wouldn't return to where he lives — by my choice, not his hand.) But let's all blame the victims.
Linda's treatment is like Pyjama Girl's: Unfair and unwarranted crap which absolves their murderers from any responsibility. Which makes me really, really upset. The kind of upset that renders me unable to even swear properly.
How can anyone ven suggest that a woman was somehow responsible for her own murder because of the PJs she wore or drinking?
That Pyjama Girl's death & "murder case" was reduced to media hype, social agendas, sloppy & corrupt police work — and just plain political no matter how you cut it — is a story which deserves to be told. If only because it may be the only way this woman (and Linda Agostini and other victims) can be honored. And because it just might be of value in teaching people what matters.
And that isn't a woman's pajamas. Or her short skirt. Or the number of drinks she's had, who she knows, where she goes. She's human and her life was taken — and likely by someone she trusted.
So, just how ridiculous does that not-giallo-enough film made in 1977 seem now? Like some chick's armpit hair, it just doesn't matter. Other than it was an insignificant waste of time.
And yeah, I could be all wet because, as I readily admit, I didn't see this 1977 film. But then "Runkdapunk" says, "The disc has a half hour documentary about the actual Pyjama girl murder case which is actually more interesting than the film." So I rest my case.
Now if only poor "Pyjama Girl" could only rest in peace.