OK, I like Maxim — unlike Cosmo, it's a magazine that's pretty clear who and what they are all about. But I have a little bone to pick regarding the 2009 Sex Survey in their March issue (yeah, the one with dreamy Dushku on the cover — I've got a girl crush on her, and I don't care who knows it).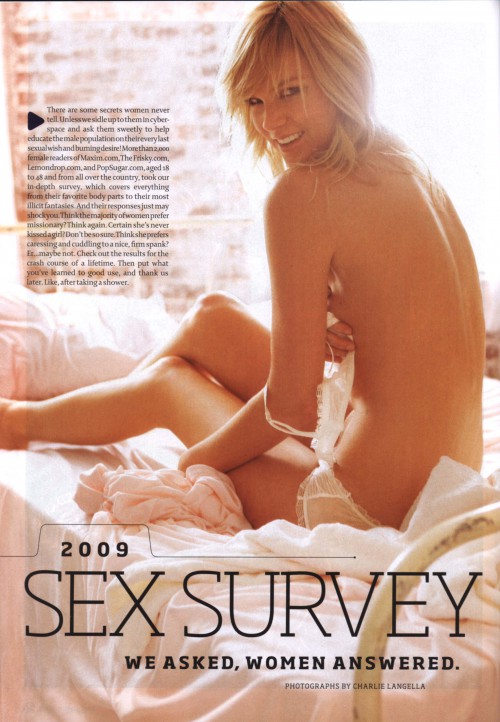 "More than 2,000 female readers of Maxim.com, TheFrisky.com, Lemondrop.com, and PopSugar.com, aged 18 to 48 and from all over the country, took our in-depth survey…" Now I'm no statistician, but 2,000 speaking for an entire gender on the globe — or even the nation — seems pretty small. What's worse, is that I would have expected a greater number than that just from Maxim's site; yes, even just female readers of Maxim should be more than 2,000. Then again, a recent survey says that only seven percent of a magazine's subscribers seek/read the magazine's website. But that survey only had 316 participants?!
Then you add in the other websites — all of which I'm sure boast more than 2,000 unique visitors a day to their advertisers — and you have what I'd call a diminutive survey participation rate. (Word to my bloggin' pals: don't feel badly about poor blog participation/comment ratios; the Big Sites don't do any better.)
And that's before we even get to the readership bias issues of pre-selected groups of women…
It's pretty clear from the canned "In an effort to help the male readers of Maxim magazine understand us women a little better, they've asked…" line used in all the posts of the female-centric sites which partnered with Maxim for this survey that the publication sent out a form letter to the sites they selected — and that they selected/defined women based in large part upon the stereotypical female interests of celebrity gossip, shopping and relationship sites. Not all women are defined by such activities and websites. And the latter, women interested in reading about relationships, pretty much precludes women who are happy in their relationships — which would pretty much seem to be the best ones to offer men (and women) insights into what works. But whatever.
While this all sounds like I'm gonna spank some behinds rosy red (and you know I love to wear my leather domminatix gear when dishing media madness and relationship mythology), I don't entirely disagree with the Maxim survey results.
So stick around for more; I'm breaking it up into more easily digestible points/posts.