Don't get me wrong; I love being married. But sometimes I miss the little things about being single…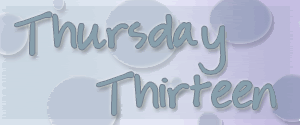 Thirteen Reasons To Enjoy Being Single
1. Everything in your home is yours — and remains yours — until you die.
2. You can come home after a long hard day, strip off your clothes, leave them where they lay until you feel like putting them in the laundry pile, take a long uninterrupted soak in the tub, get up and walk around naked — all free of any complaints. Or being accused of "teasing" when you aren't in the mood.
3. Your career is the only one that matters.
4. Breakfast can be the last slice of blueberry pie — ala mode, if you wish. Or left-over Chinese take-out. No one is there to take it — or judge you.
5. You dress for yourself — and you don't need to justify your quantity of shoes, either.
6. Lunch can be a trip to the mall.
7. Dinner can be a bowl of cereal in milk — snarfed down the minute you walk in the door because you skipped eating lunch.
8. Your closet is yours & yours alone; the only need to squeeze things in is because of your last "lunch."
9. No annoying in-laws or significant other family members &/or friends of your partner to put up with. (Just the annoying coworkers to deal with now — and see #2.)
10. You can sleep alone in the center of the bed, in one snoring, drooling pile, without being outed for it.
(Don't worry, you can still have sex. Just kick him or her out; one person can easily avoid the dreaded wet spot. Better yet, have sex at their place and let them worry about avoiding the wet spot.)
11. In fact, you can sleep wherever (and whenever) you wish, including the couch, after another bowl of cereal, watching your favorite movie.
12. Things are where you left them — including the toilet seat in the down position.
13. You will always like & trust the person you live with. (You!)
Get the Thursday Thirteen code here!