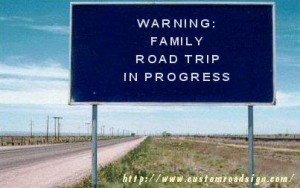 On Monday we drove from Fargo (ND) to Menomonie (WI) to meet my folks and get the eldest who had spent a week at their house. We do road trips like this quite often, what with visitation & all, so what I'm about to say happens in many variations…
Somewhere around Hudson (WI), hubby and I put in a CD. Not just any CD, Pete Seeger's For Kids & Just Plain Folks (a recent garage sale find). He & I begin to sing along and either our collective loud singing or my "chair dancing" garners interest from the children. We are notified by this when Hunter complain-asks, (with intensely wrinkled face), "What is this?!" I tell him it's folk music; that I like bluegrass and folk music. His response?
A judgmental, "What happened to you?!"
But eventually, the children not only listen (which required two of three to remove earplugs & turn off their iPods) but begin singing along — even to songs they've never heard before, like the fanciful & silly Here's To Cheshire — Here's To Cheese (Froggy).
As Pete Seeger himself said in his narration, there once was a time when very few people had music to listen to. Only the very rich could hire performers, so most people had to make their own music. (In his narration, Seeger relays the comments of a man who claimed to have learned the fiddle because he noticed that fiddle players got to stand next to the fires; which prompted me to add, "And fiddle players get the chicks." To which hubby commented, "Fiddlechicks!" now a frequent expletive we use lol)
Anyway, my point is that most of us are spoiled by the availability of music — and we lessen the musical experience too. Not only do we make less music ourselves, but we don't share it either. We sit enclosed in our own musical bubbles, earphones in and isolated from the experience of sharing music. For hours. Days, even.
It's a shame, for there's great fun in sharing a silly sing-along with Seeger. Or, as occurred later, singing along with Three Dog Night – Joy to the World: Their Greatest Hits
.
I must say that those 80's air band contests (yes, I "competed" in those) & Karaoke (even though they are much more solo-performance oriented) are better alternatives to the isolation of listening/singing alone to your earplug-fed music, with or without singing into your hairbrush. (But Rock Band et all can go to hell; it's not teaching a love of music or even a shared musical experience, just making music more competitive acts and solo pursuits.) I'm much more in favor of group & family sing-alongs — be they with Mitch (grandma put those albums on at Christmas) Seeger, Three Dog Night, GNR, or whoever.
So take a road trip with your family, your girlfriends, etc. Have everyone unplug from their individual listening devices, & create a sing-along.
You could try this at home; but just like those questions kids ask you when you are driving, you have a captive audience in the car. Use it.
Credits & Other Info:
Mini review of Pete Seeger's For Kids & Just Plain Folks: A lovely collection, but poorly equalized. I suggest other Pete Seeger recordings where the volume doesn't waver, resulting in continual volume adjustments & ear-blasts. (However, as usual, not all the songs may be available on other CDs/recordings; I'm not into researching that.)
Mini review of Three Dog Night – Joy to the World: Their Greatest Hits
: Absolutely fabulous! Has 14 songs which sound like they're on vinyl, and has a track (I'd Be So Happy) that's not on the other (later released) 20 Greatest Hits album.
Image made via CustomRoadSign.