I found this French ad for Tampax via Tom Murphy at The Ephemera Network. Tom doubts this ad campaign could be run here in America — for quite obvious reasons.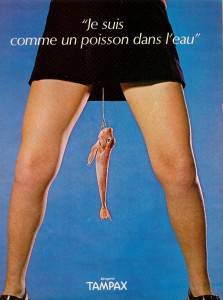 The French translates to "I am like a fish in water." Not that that clears anything up.
Because no matter what language or the word for "fish," any society with a female population is aware of that fishy smell — though less realize it's likely due to Bacterial Vaginosis; they just mock it and women in general with tacky references to hyper-sexuality. So I'm really surprised that this ad could run anywhere.
Not just because of it's potentially suggestive humor, but because why would a company, especially a feminine hygiene product, want to link itself to such an offensive thing? Especially as some experts believe that tampons can change the normal balance of vaginal bacteria; don't think that's how you want your target audience to think of you, Tampax.